Park City's Kimball Arts Festival
Posted by Donna Rouviere Anderson |
August 05, 2019
Photos by Forrest Anderson
Fine art, a quaint mountain town and epic mountains. What more can you ask of a summer Saturday?
The Kimball Arts Festival celebrated its 50th year in Park City, Utah, over the weekend. The three-day festival gathered a carefully curated group of more than 220 sculptors, painters, jewelry makers, glass blowers and other creative artists who work in a stunning variety of media and genres. In addition, art galleries along the town's main street threw open their doors with special offerings for the event, which attracts 50,000 visitors yearly.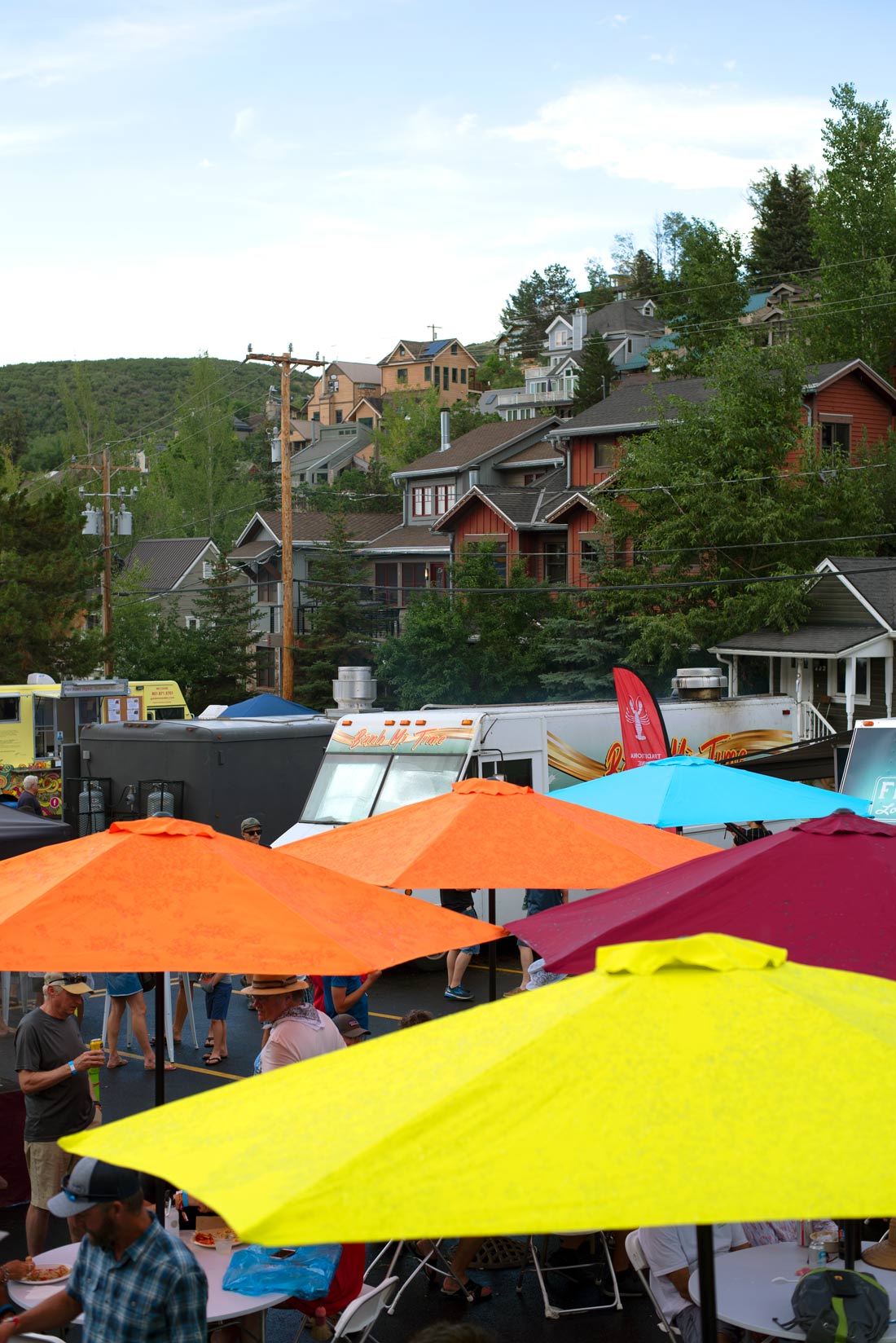 The festival is a fundraiser for the Kimball Art Center in the famous mountain town, where the center is a central fixture in the village which many local artists call home and in which many others exhibit their art. The fund-raiser enables the center to provide year-round free admission to exhibitions as well as art education and curriculum for public schools and other art programs for children and teenagers. The center opened in 1976 in a rundown former garage and body shop which before the advent of cars had been a 19th century stable for miners to leave their horses. Plans now are underway to create an entire arts and culture district in Park City with the center and Sundance Institute as the anchoring partners with the city.
Centered on the town's historic Main Street, the festival included artists' exhibits, food, live music and interactive activities. Park City, which has 8,000-10,000 permanent residents, is a world-class tourist spot that brings more than half a billion dollars into Utah annually. The former mining town in the Wasatch Mountains also is home to the Sundance Film Festival and has the largest ski area in the United States. The city hosted skiing and snowboarding events at the 2002 Winter Olympics. In the summer, it is also a popular magnet for hikers and mountain bikers, and a number of international outdoor-oriented businesses are headquartered there.
The artists who participated in this year's festival were chosen from more than a thousand entries. Here are a few of the ones whose work we found the most compelling, chosen for the characteristics we believe are the most important for artists:
Uniqueness - Each of these artists produces work which is bold, original and represents their unique vision.
Authenticity - We chose artists who have blended their heritages, experiences, talents and interests into art that is more than each of those would be alone.
Skill - Each of these artists has mastered their craft and then gone on to create a body of significant work solidly built upon it.
Hard work - These artists' work is the result of persistent hard work over years to build their skills.
A joyful passion for their work.
Maia Leisz
Maia's work is our personal favorite of the show. Her vibrant paintings blend a mastery of her media with the rich traditions and colors in her landscapes of the Mediterranean region and her native western United States.
Maia combined a major in art with a minor in French at the University of California at Santa Cruz. She first studied language in southern France and then art and drawing at the Marchutz School of Painting and Drawing in Aix-en-Provence, France. She has worked as an artist since, living in San Francisco, France, northern Italy and England before returning to her native Idaho. Maia's vivid art is distinquished by her warm, glowing use of light to capture the spirit of the landscapes she paints. Despite its bold use of color, Maia's work has a captivating tranquility. Her goal is to create art with a timeless quality that can be enjoyed for a lifetime and handed down to future generations.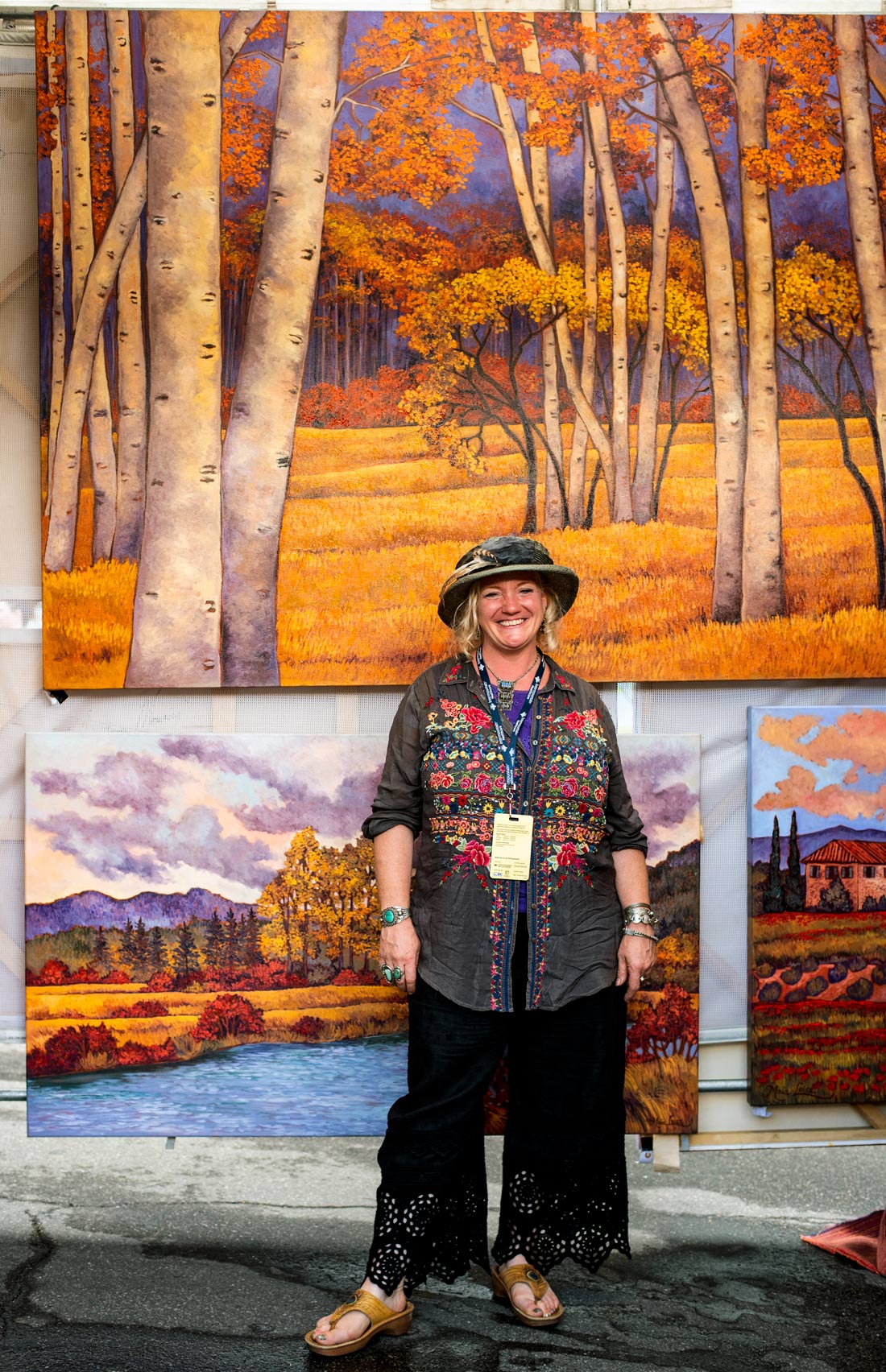 Stuart Ratcliff
Stuart Ratcliff's pen and ink drawings won us over with their charming touch of Asia, the result of his wide travels in this region. Stuart grew up in Sacramento, California, with a mom who limited his television time to Saturdays. Instead, she supplied him with paper and art supplies. He continued drawing with a group of friends in high school and started selling his drawings at art fairs after graduating from college.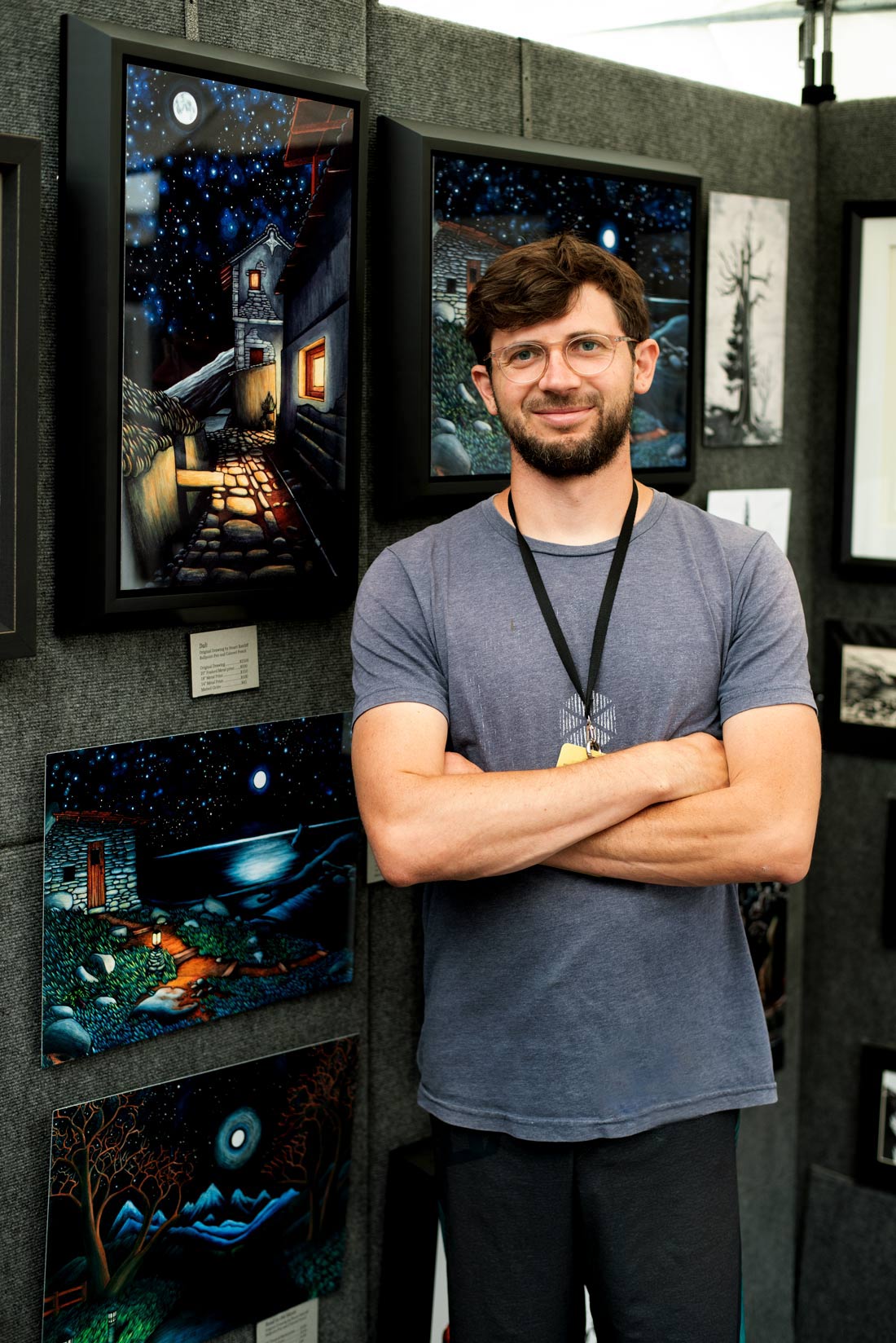 Annie Chrietzberg
Annie is a studio potter whose whimsical, richly textured ceramics look as though they emerged from a fairy tale. She works both as a potter and teaching workshops and private classes. If you love ceramics, take a look at her beautiful work on her website.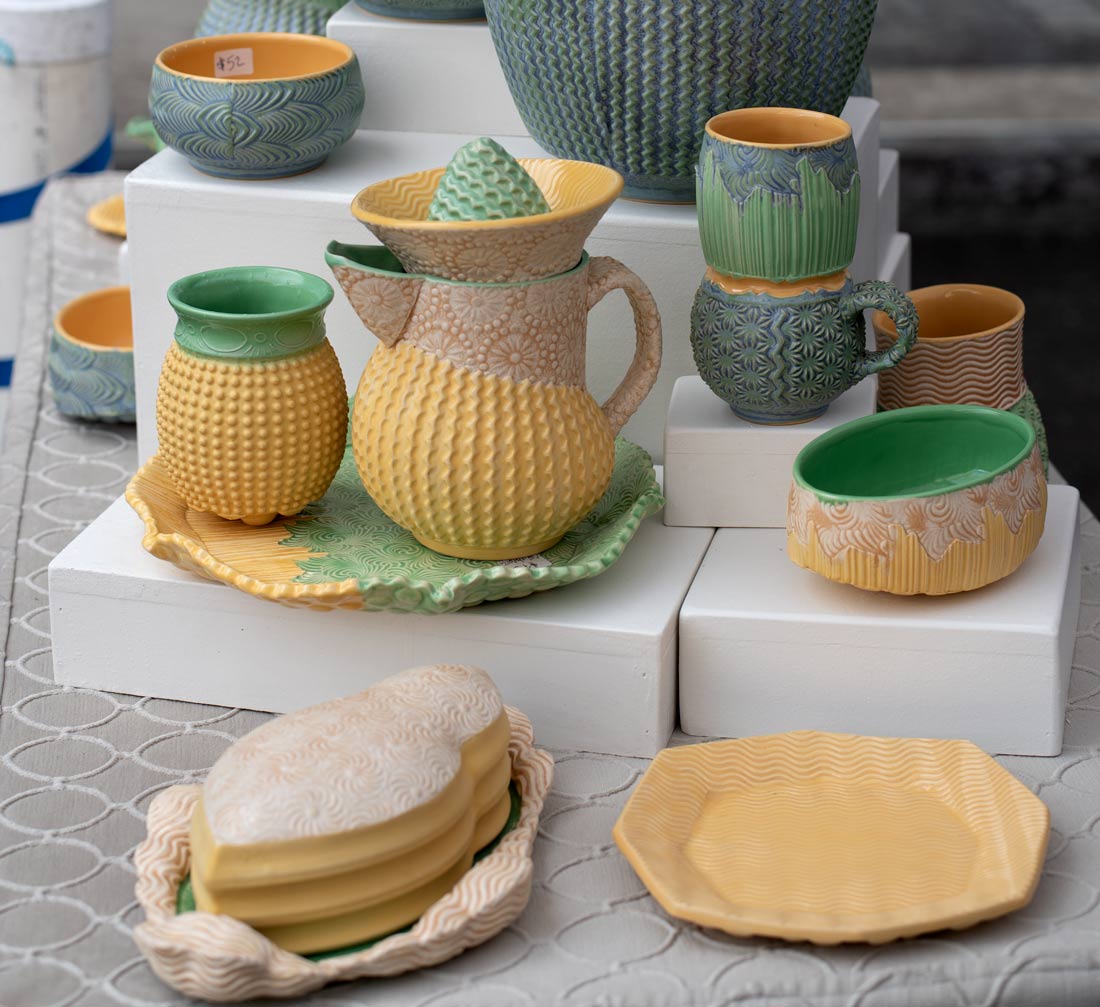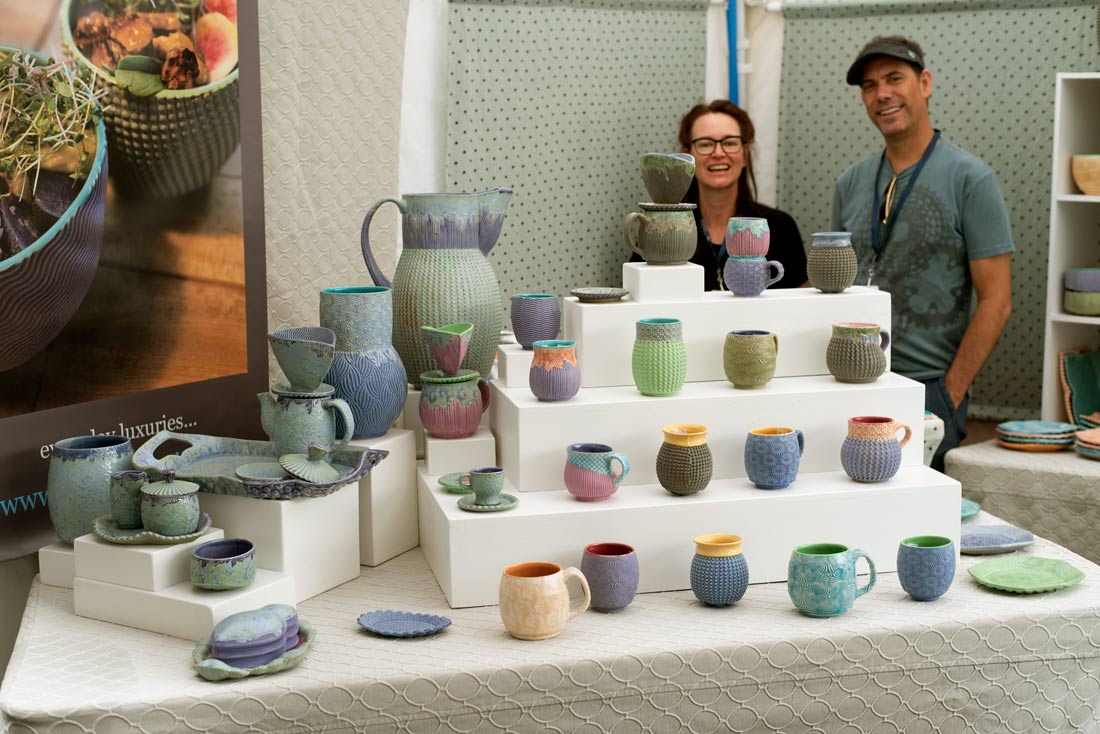 Gerald Arrington
Gerald has turned his passion for river stones into smooth, organic ceramics that look like rock, stone and driftwood – a result of days spent fly fishing on the Big Wood River in central Idaho. Gerald majored in fine arts at Idaho State University, but also studied geology. His love of clay and fascination with rocks merge in his work. He now lives in Sebastopol, California.
Gerald has tried to incorporate into his work natural processes that work on stone, turning it to clay, and then back into stone. His understated, archetypal vessels, sculptures and fountains are intended to inspire contemplation of timeless processes.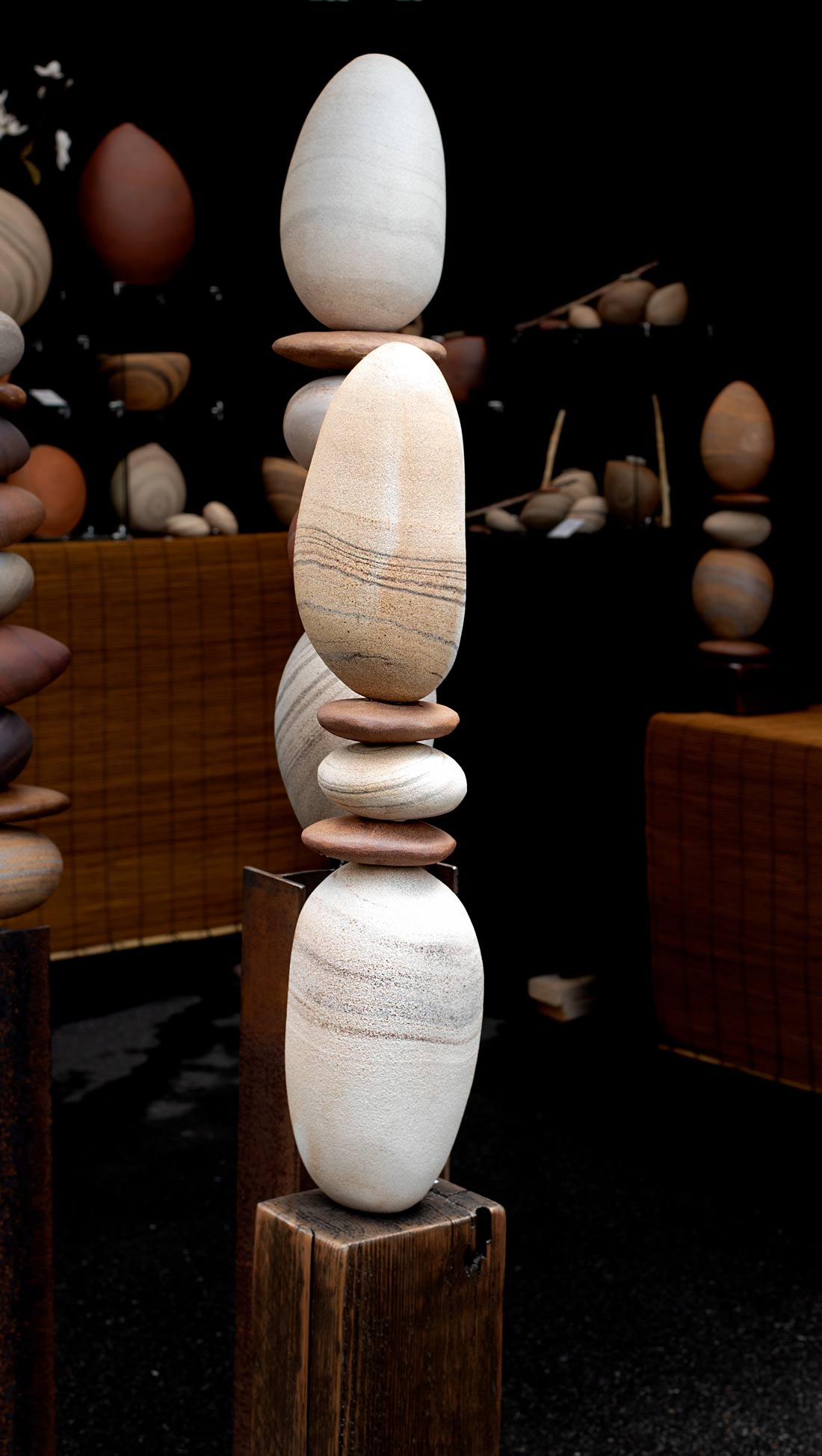 Holly Stults
Holly Stults is a well known jewelry designer from Santa Fe, New Mexico, whose work I have come across multiple times over the years. It is gorgeous. Holly turned her allergy to silver into a strength by creating finely wrought sculptural jewelry using gold and non-tarnishing argentium silver that doesn't cause reactions in people who are sensitive to the nickel in ordinary silver jewelry. Holly's jewelry includes detachable pendants which can be worn with a variety of necklace strands, earrings, rings and bracelets cuffs.
She earned a bachelor of arts degree from Wilkes College in Wilkes-Barre, Pa., and then studied jewelry at the Kulicke-Stark Academy of Jewelry Art and Parsons School of Design, both in New York City. She has exhibited in more than a dozen museums and sold her jewelry to more than 300 fine arts galleries as well as exhibiting in hundreds of fine arts and crafts shows since 1980. She taught at the Fashion Institute of Technology in New York and was the head jewelry instructor in the art department at Santa Fe Community College.
If you love beautiful silver jewelry, are concerned about the impact of mining on the environment, or have an allergy to ordinary silver jewelry, check out her work. The silver she uses is recycled, stronger, more pure and white-looking than ordinary silver, has hypo-allergenic properties, uses fewer chemicals in production and is not acquired through new mining.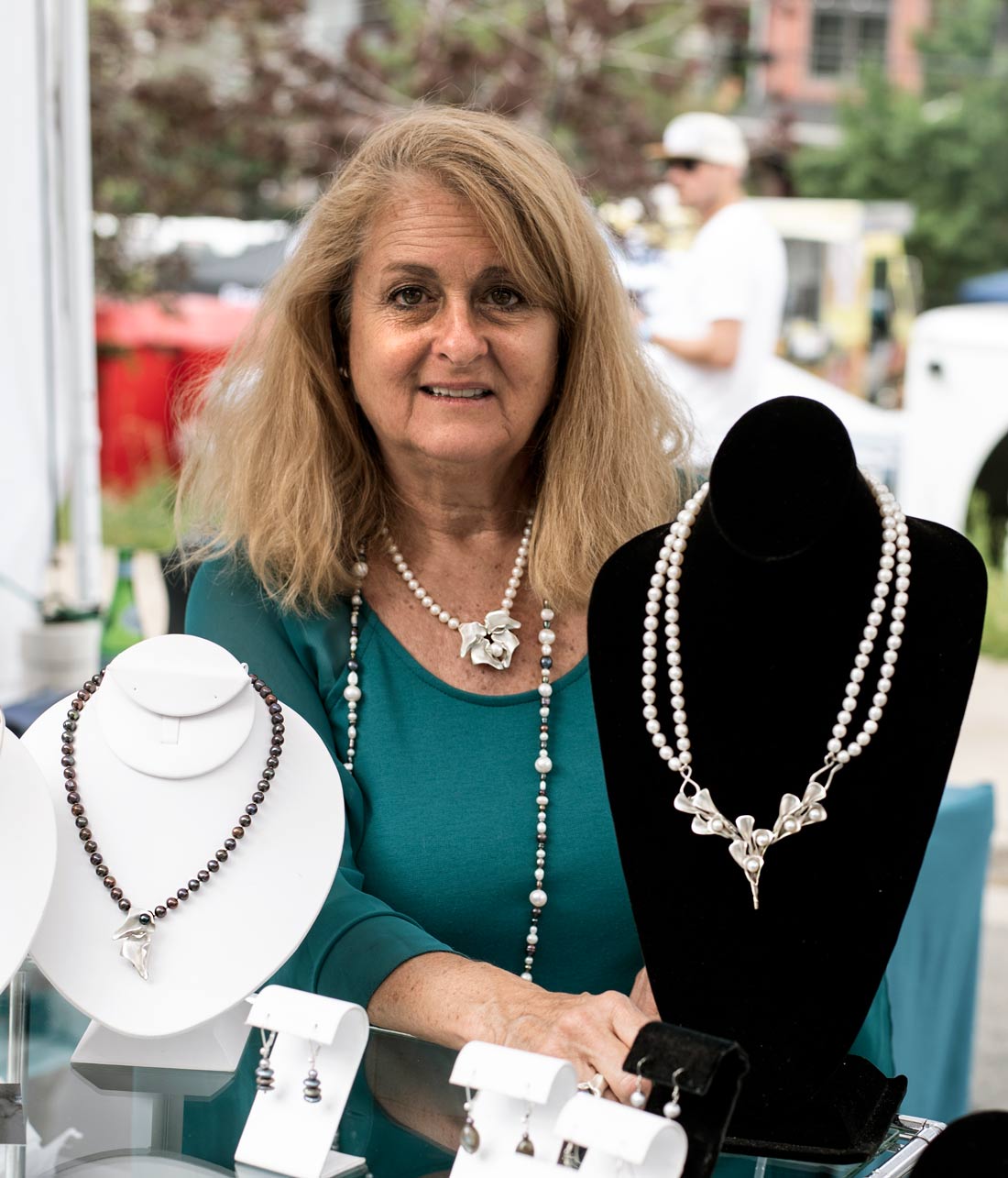 Bozenna and Lukasz Bogucka
Bozenna and Lukasz Bogucka's elegant handbags made of stainless steel mesh are a result of a collaboration between them. Made in their Los Angeles workshop, the handbags use stainless steel mesh so fine it looks like silk, with 23K gold leaf, copper or brass mesh for accents. They achieve various effects by using high temperatures, pressure and multiple layers. As a bonus, the bags block unauthorized transmission from RFID-enabled credit cards and IDs.
Bozenna and Lukasz met while studying design at the Academy of Fine Art in Warsaw, Poland, but did not meet up again for 20 years. In the meantime, Bozenna had her own interior and graphic design studio in Warsaw and showed artwork at galleries in Europe, Japan and the United States. Lukasz designed exhibits for trade fairs, then worked as an interior designer, designed maps and got into manufacturing and marketing lamps made of various materials – among them stainless steel wire mesh. After they got back together and got married in 1996, they became design partners. While working on a line of lamps, they got the idea to create the handbags.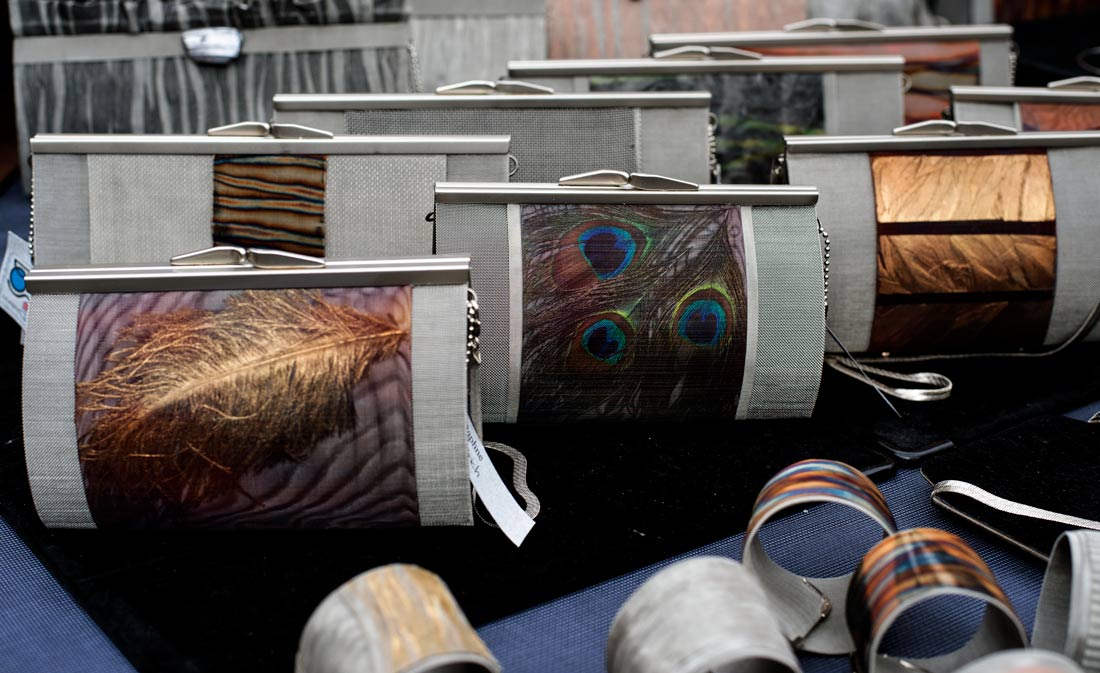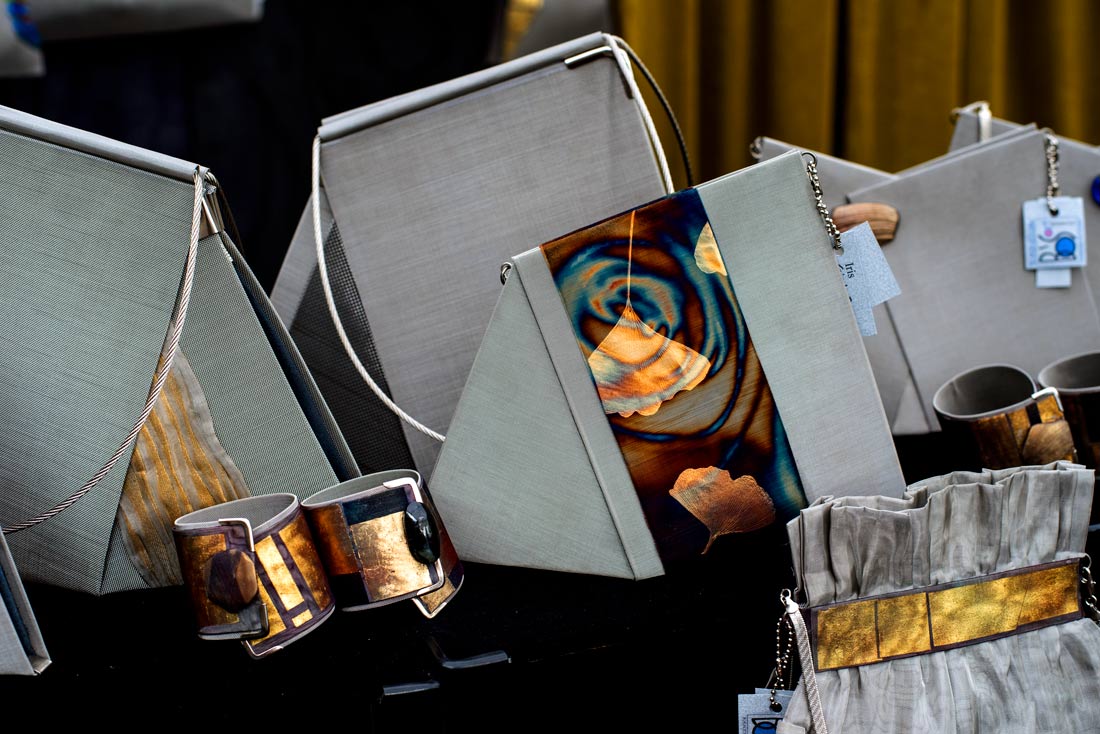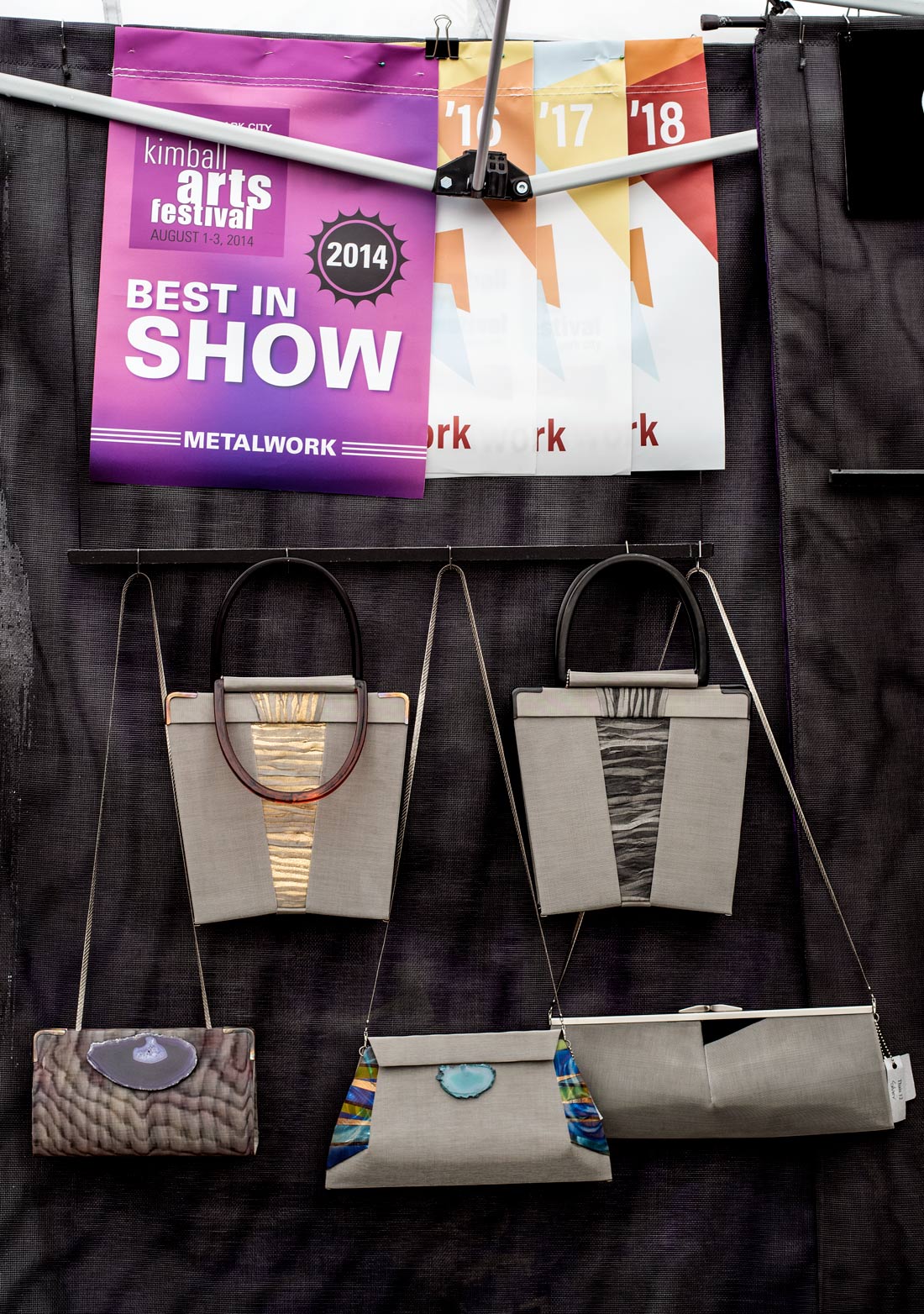 Scott Slagerman
Scott Slagerman creates sculptural artwork using blown glass that is integrated with pieces of wood with live edges. Scott studied in the glass program at UCLA's School of the Arts, then studied glass work at the L'Ecole des Beaux Arts de Aix in Provence, France and Centre International du Recherche sur la Verre. He visited and worked in studios and glassworks throughout Europe. In 1990, he founded his first studio, Verrerie du Val de Loire, in Saumur, France, moving it to Paris in 1994 and renaming it Fireworks. His work was sold in galleries and design stores throughout Europe. He also did work on commission for well-known design houses. Slagerman sold Fireworks in 2001 and returned to continue his work in Los Angeles.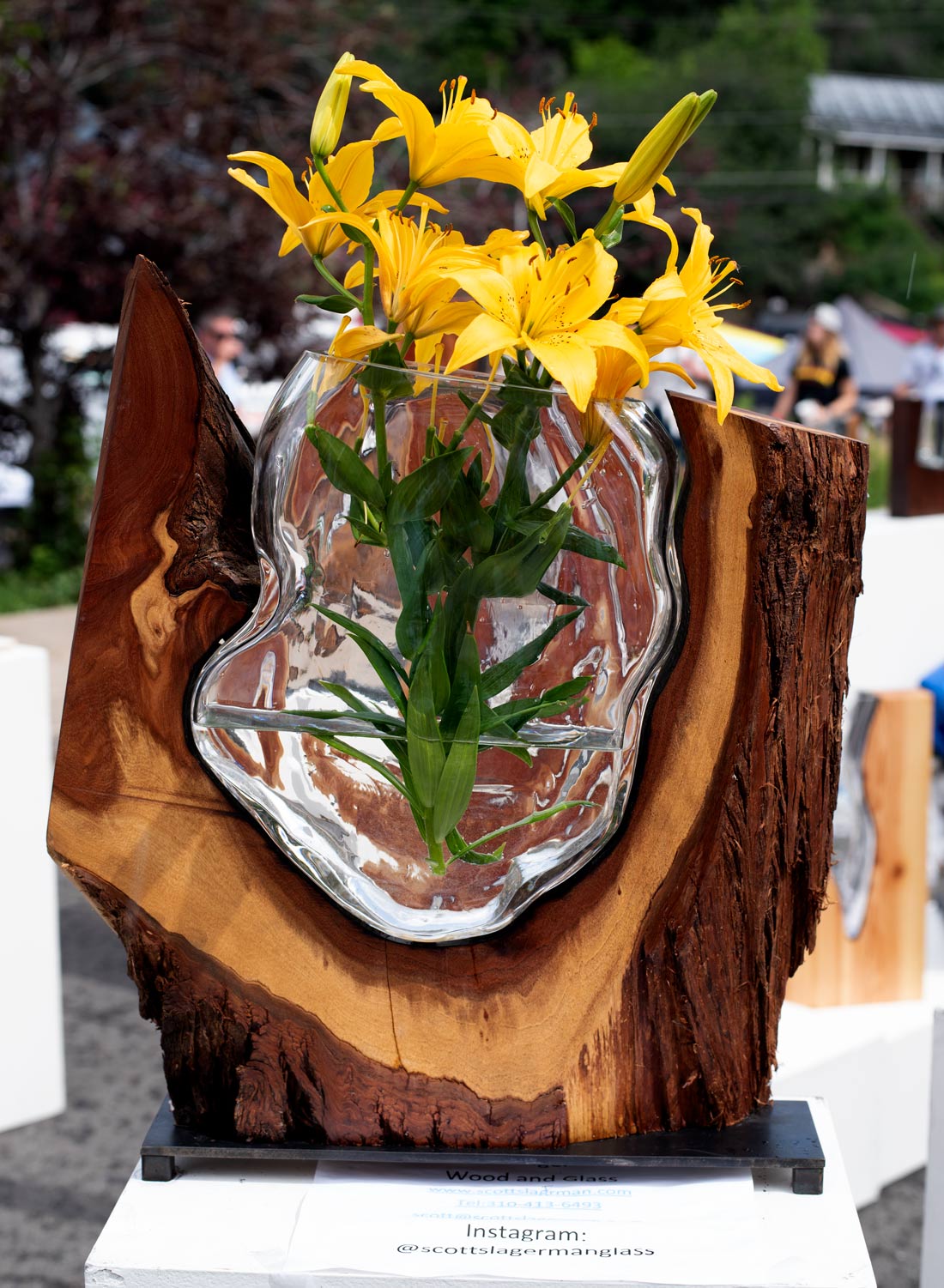 Kirk Miller
Kirk Miller draws on inspiration from his home in Florida to create sheet glass sculptures, lighting fixtures and trays and vessels that look like abstract versions of the water and exotic creatures and plants from the sea.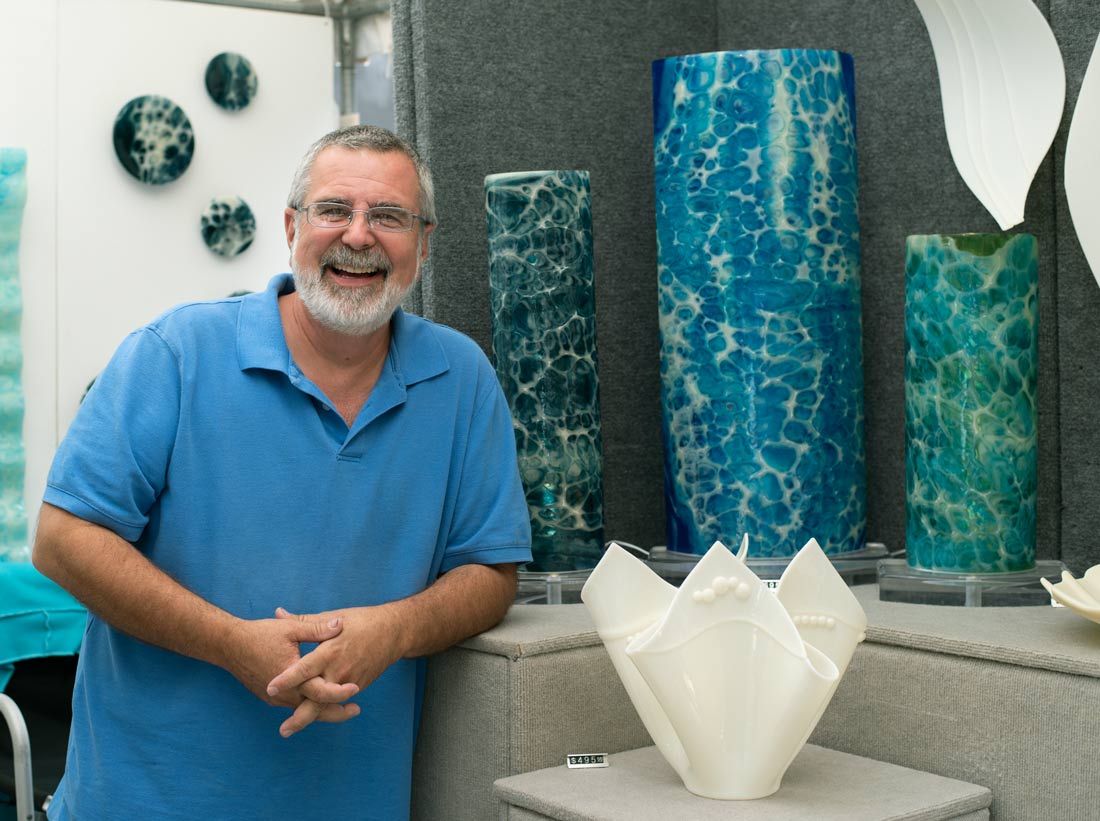 Wayne Trinklein
At first glance, Wayne Trinklein's sculptures look like exquisite bonsai trees. The trees' trunks are molded from copper wire and fused solid with tin. The metal is carefully heated and worked with tool like clay. Realistic lines are worked into the surfaces of the trunk so that they look like bark. so that it looks like bark.
An art assistant creates the delicate final finishing of the branches. The "trees" are anchored to beautiful rocks.
Wayne's sculptures began as Christmas presents for his four brothers more than 30 years ago. They were intended to express qualities he saw in each of them.
Wayne spent years climbing and studying trees and joined this passion with his art to create trees that represent strengths, victories, failures and forgiveness and hope.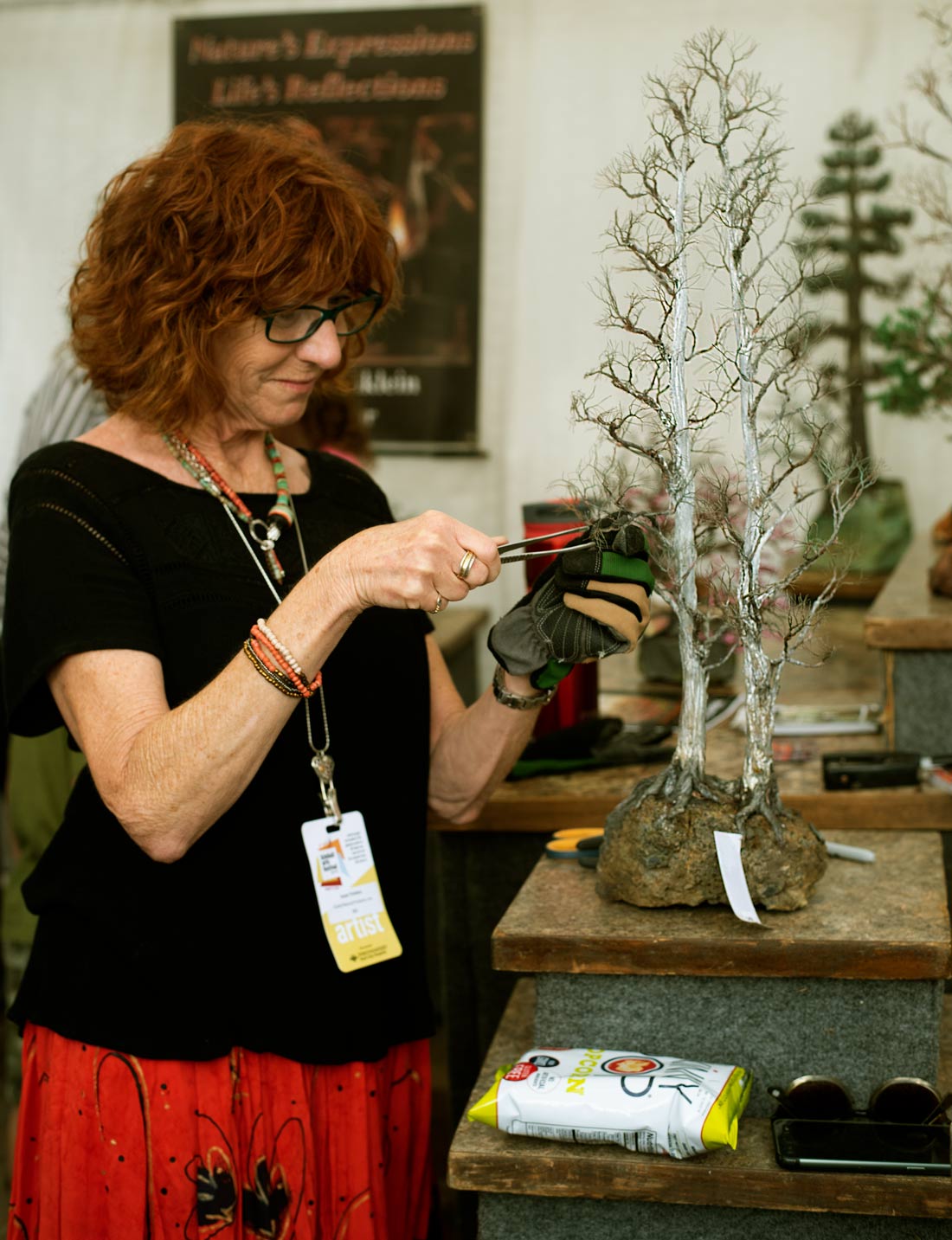 Susan Trinklein, Wayne's wife and assistant, puts the finishing touches on a tree sculpture.
Jany Rae Seda
Jany Rae Seda grew up in Idaho as well, spending hours drawing in her room. She graduated from the University of Idaho with a bachelor of fine arts in design and had a variety of jobs. Upon deciding at almost age 55 to get back into painting. She sold almost everything she painted. She studied at the School of the Art Institute of Chicago and has now painted more than 2000 paintings. She sells her art at fine art festivals throughout the West. I was particularly drawn to her paintings of Mesa Verde, where she was a resident artist.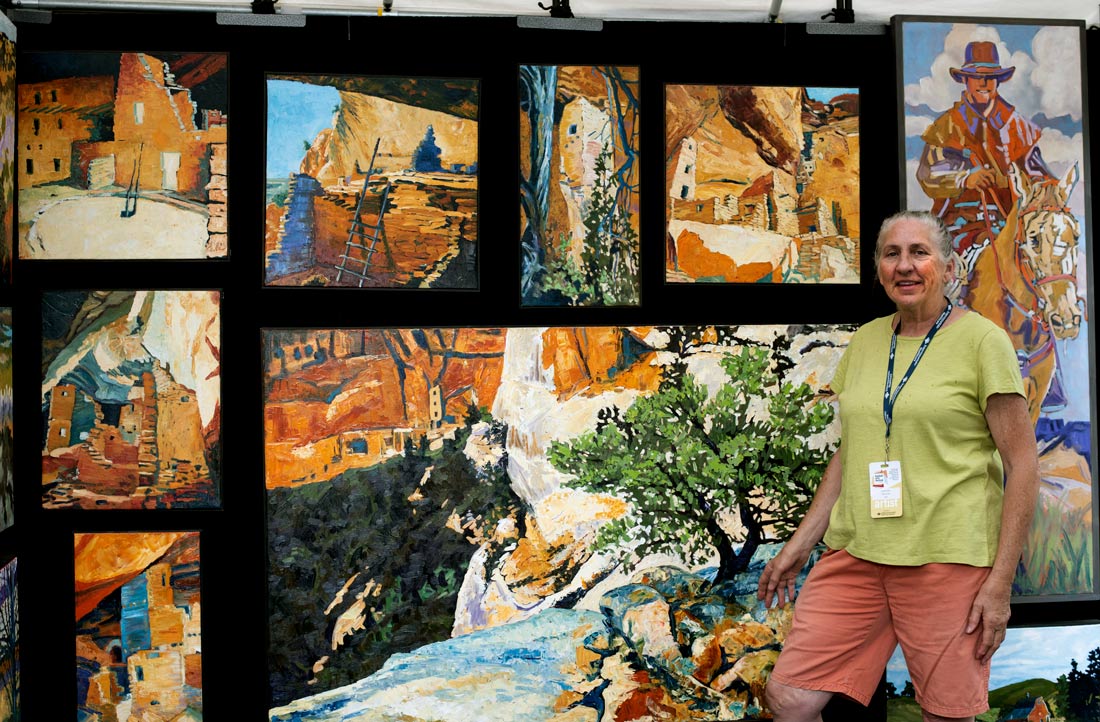 Amy Everhart
We also came across a local contemporary impressionist artist named Amy Everhart at the festival. Amy was painting with her easel set up outside of a gallery on Main Street where she sells her work. Amy's paintings give impressionism a unique twist with subject matter that reflects the quaking aspens, mountains and rivers of Utah.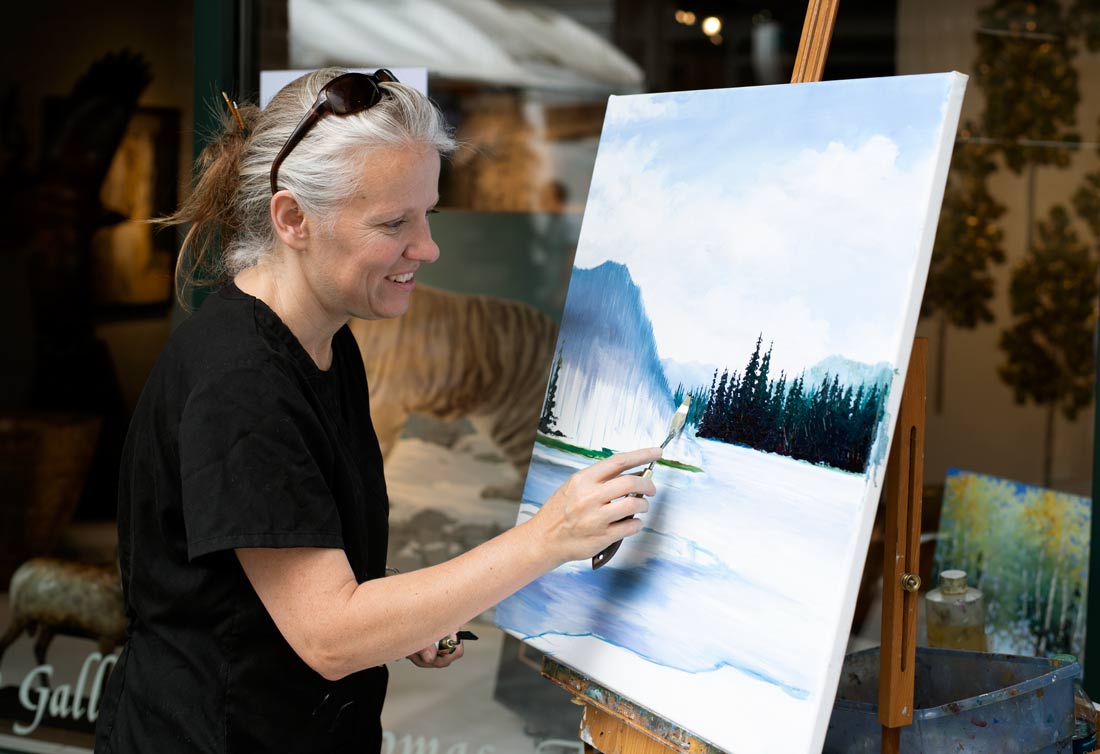 Check out these related items