Asian Pot Stickers
Posted by Donna Rouviere Anderson |
December 30, 2020
Photos by Forrest Anderson
Half of our immediate family are Asian American and one or more of us have lived in China, Taiwan, Hong Kong, Japan, South Korea, Singapore, Malaysia and among large Asian communities in Canada, New York City and California. It's not surprising, therefore, that our favorite holiday food is Asian pot stickers.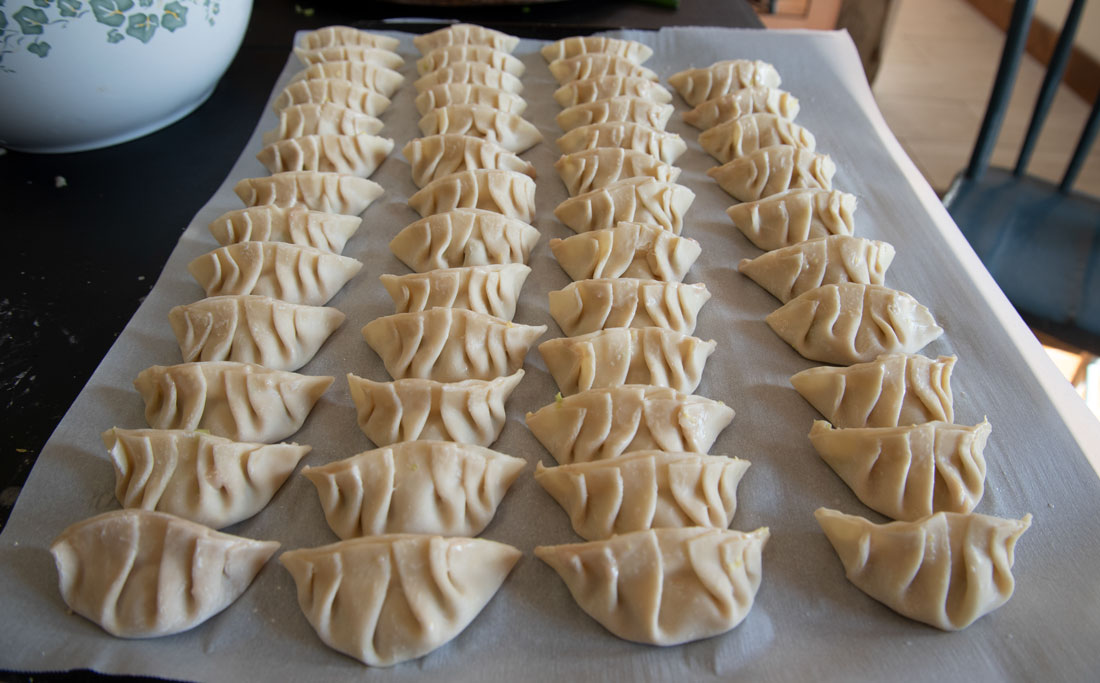 There are dozens of varieties, but we prefer the standard pork and cabbage variety. We make and consume them in huge quantities at a meal during the holidays each year. Since we can't all gather with family and friends this year, here is our recipe. It makes about 150 pot stickers, but in most years, we double or triple it depending on how many people are gathering. No matter how many we make, it's never enough. By the next day, they are all gone.
The only time consuming part of making pot stickers is filling them, so we have a rule – if you help assemble them, you get to help eat them.
If you're a pot sticker purist who uses special ingredients, employs techniques such as adding water multiple times while cooking pot stickers or makes your own wrappers, bear with us. We probably have tried some version of your approach over the years, as we're perennial experimenters and have been through a couple of dozen pot sticker recipes. This is our current one, meticulously tweaked by a daughter. We like it for its balance of great taste and relatively streamlined workflow.
(Cheeky note: For readers who doubt my pot sticker making chops because I'm not Asian, I'll have you know that pot stickers are my all-time favorite food. I've taught plenty of Asians how to make them, starting as a young woman when I taught an Asian roommate who didn't know how because she grew up with her family's maid making the pot stickers. In my view, pot stickers are among those superb treasures that transcend national, regional and ethnic cultural boundaries.)
INGREDIENTS
3 packages of dumpling wrappers (These come in different thicknesses. If you don't know what to use, buy a couple of different kinds and experiment to see which you prefer.)
For filling:
2 1/2 lb. ground pork
2 tbsp. sugar
3 tbsp. soy sauce
2 tbsp. fresh ginger, chopped finely
½-1 Napa cabbage, depending on how much you prefer
1 tbsp. salt
8 scallions, trimmed, finely chopped (1½ cup) or 1 large Chinese spring onion the size of a leek
1 cup cold water (some people use an egg or two instead)
2 tbsp. neutral oil like canola or avocado (most Asian pot sticker recipes don't have oil, but American pork tends to be lean and dry so the oil improves the texture.)
1½ tbsp. sesame oil (This has a strong taste, so you might want to add less if you don't like it)
DIRECTIONS
Finely chop the cabbage and toss it with the salt. Wait about half an hour, then squeeze it dry.
Place the pork, water or eggs, sugar, oil, soy sauce, sesame oil and cabbage in a large bowl and mix well, stirring it in one direction until it is a fine paste.
Add the ginger after the rest of the ingredients are mixed. Otherwise, enzymes in the ginger will make the pork mixture mealy and dry.
Make a bite-sized patty, fry it and taste it. Adjust seasonings as desired. You'll want the flavors subtle because the dipping sauces have a strong taste.
To assemble the pot stickers, fill small bowls with water and distribute them around a table so that each of your assemblers has easy access to one.
Placing a wrapper on the palm of your nondominant hand, dip the fingers of your other hand in a bowl of water and wet the edges of the wrapper with the water. Then place a spoonful of the filling in the center of the wrapper.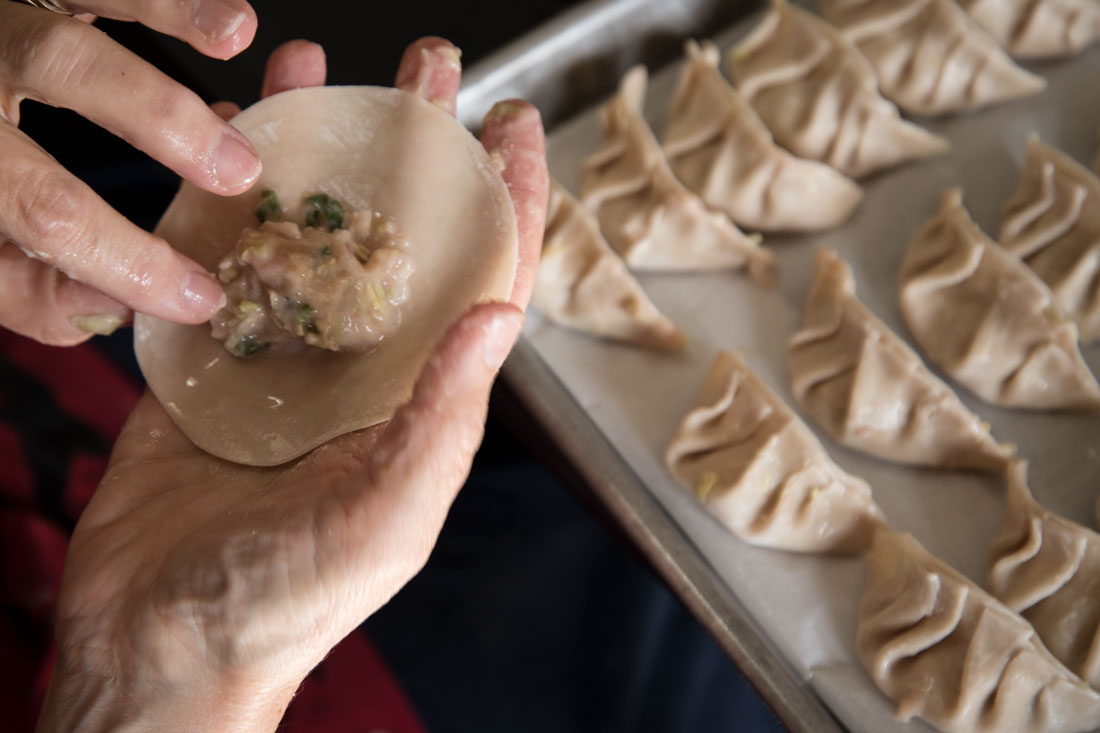 Fold the wrapper over the filling, matching the edges to form a half-moon shape. Make pleats in the top edge as you press the two sides together. Then pinch the edges together.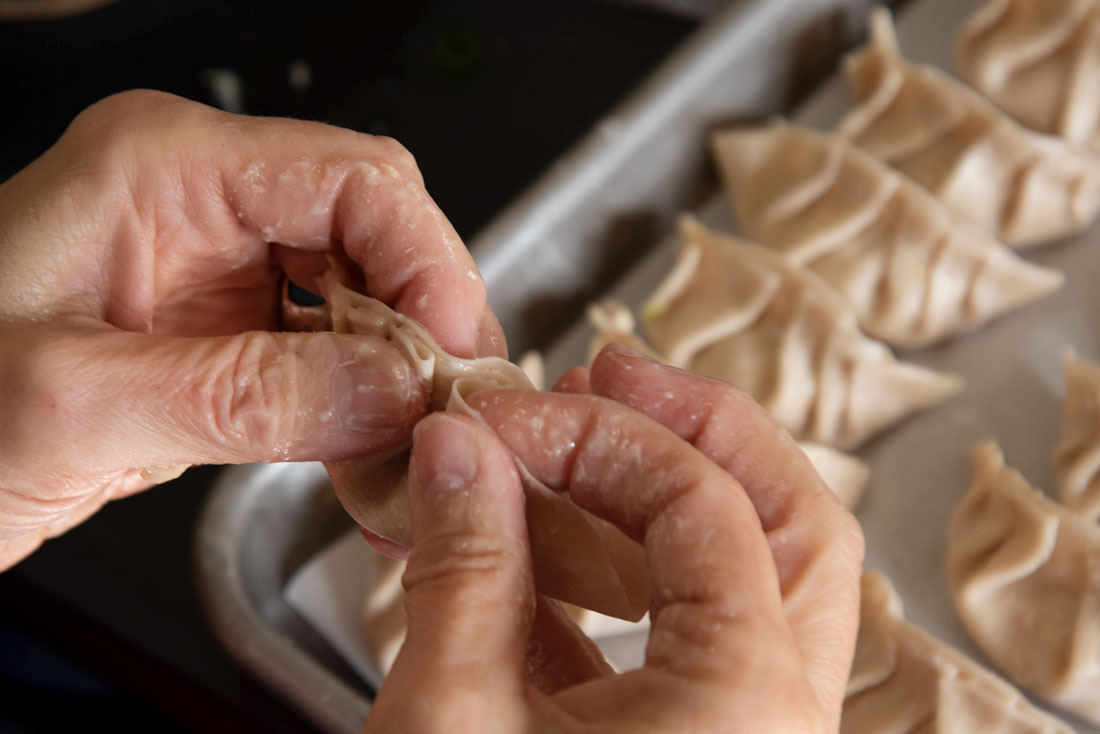 We make six pleats, three going one way and then three going the other.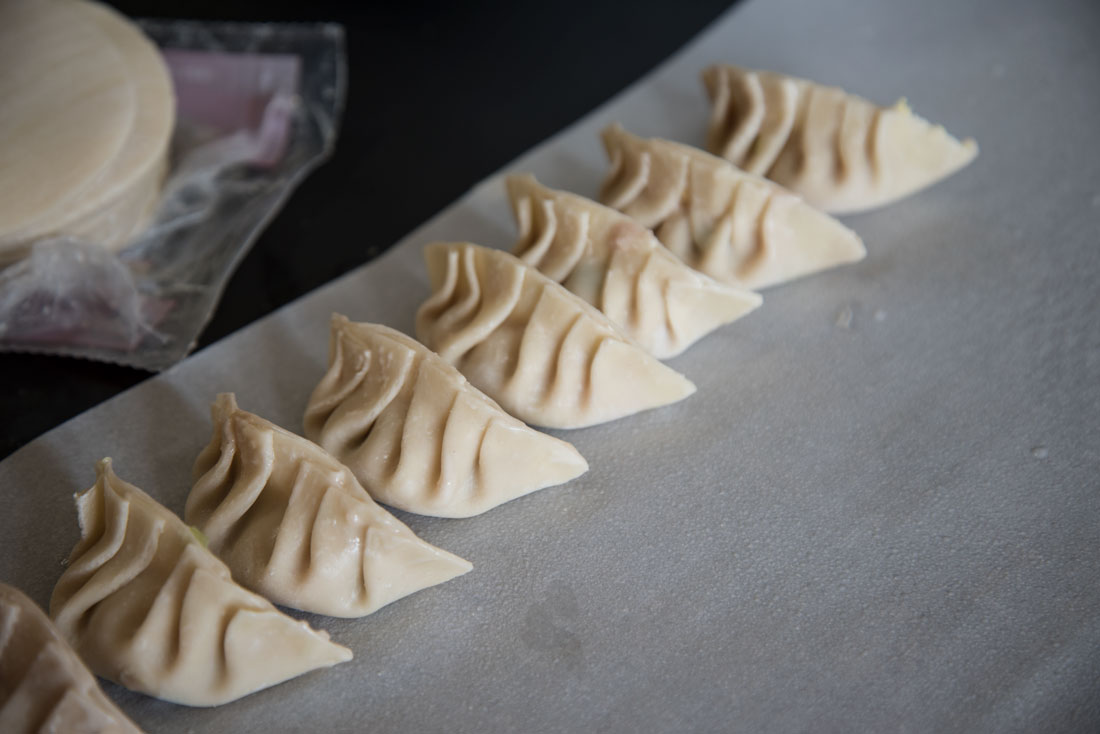 Set the dumpling on an oiled or parchment-paper covered tray or cookie sheet. Repeat for the other pot stickers.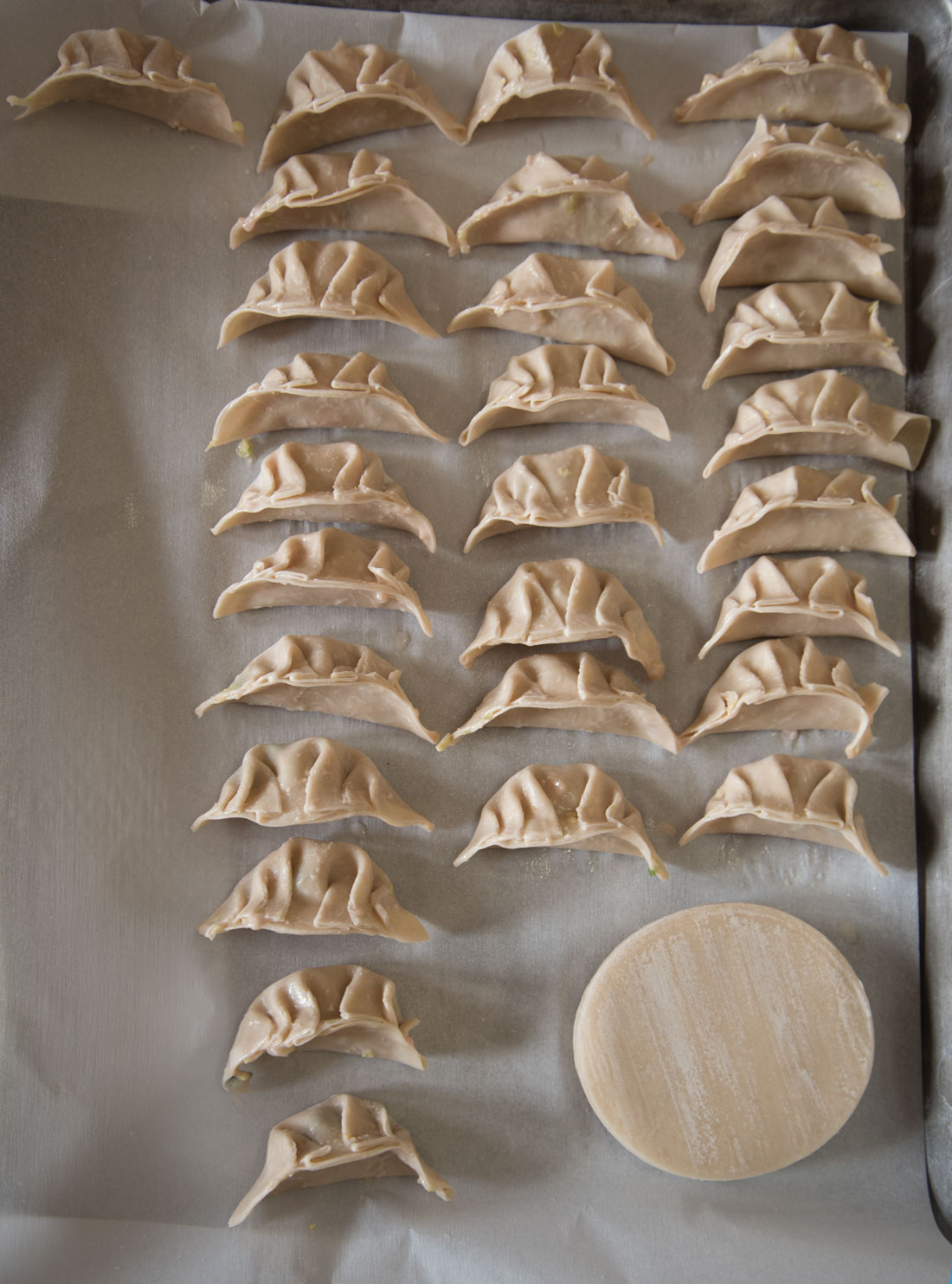 When you have filled all of the pot stickers, pour some oil in a flat-bottomed pan, heat it up and place the pot stickers in the pan so that the pleated part is up and they are touching each other. Brown the pot stickers on the bottom.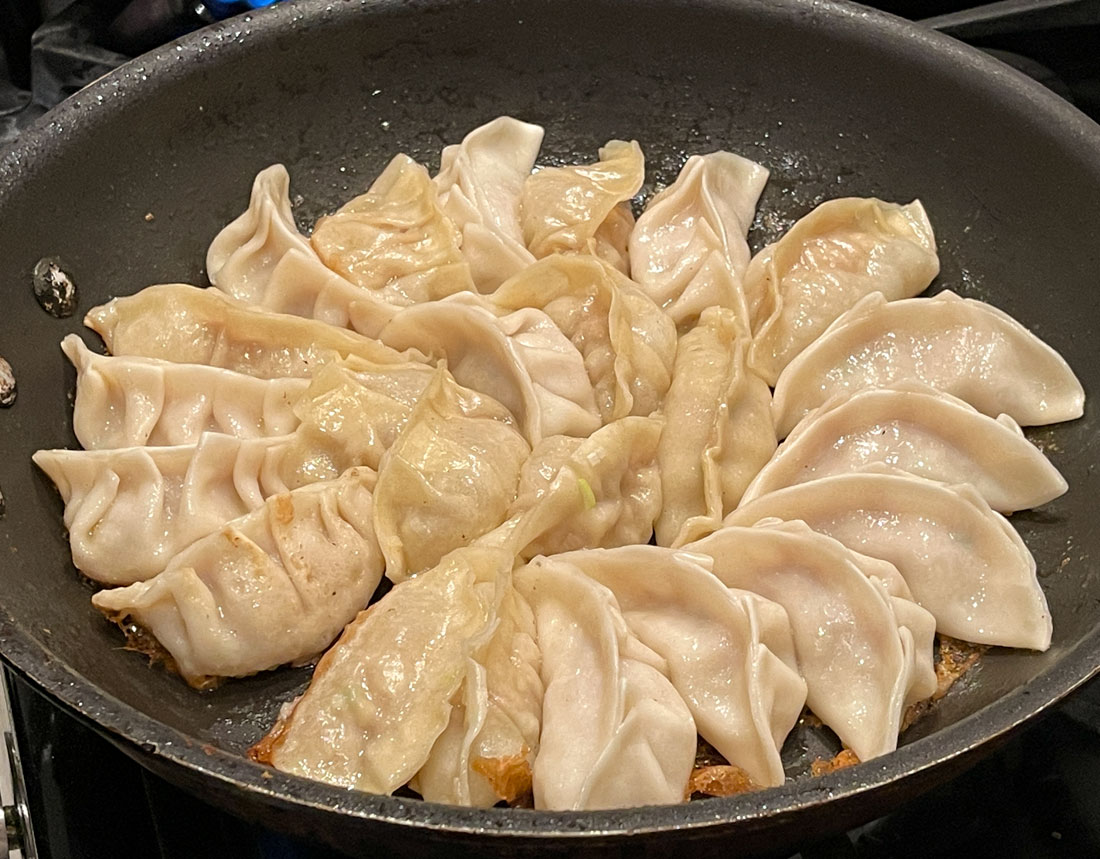 Then fill the pan with water ¾ of the way up, put a lid on the pan and cook at medium heat until the water is almost entirely absorbed.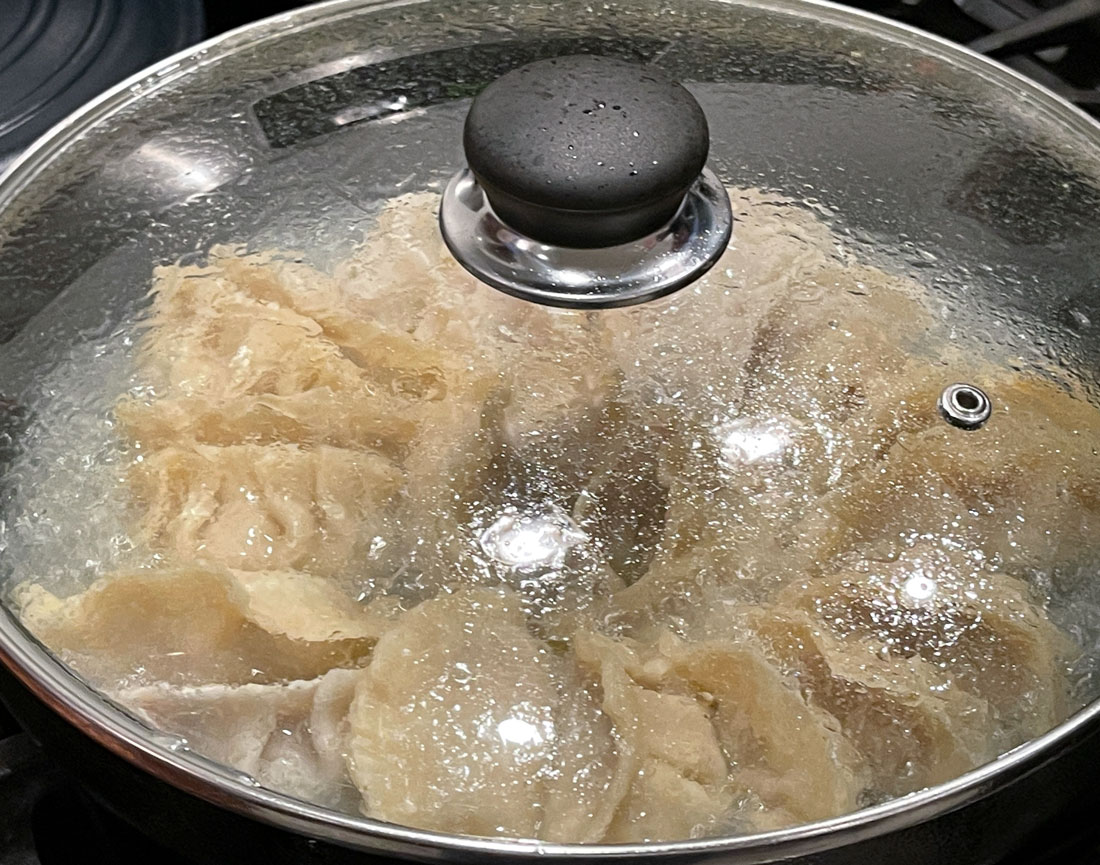 Remove the lid and continue cooking until the pot stickers crisp up on the bottom and the water boils away.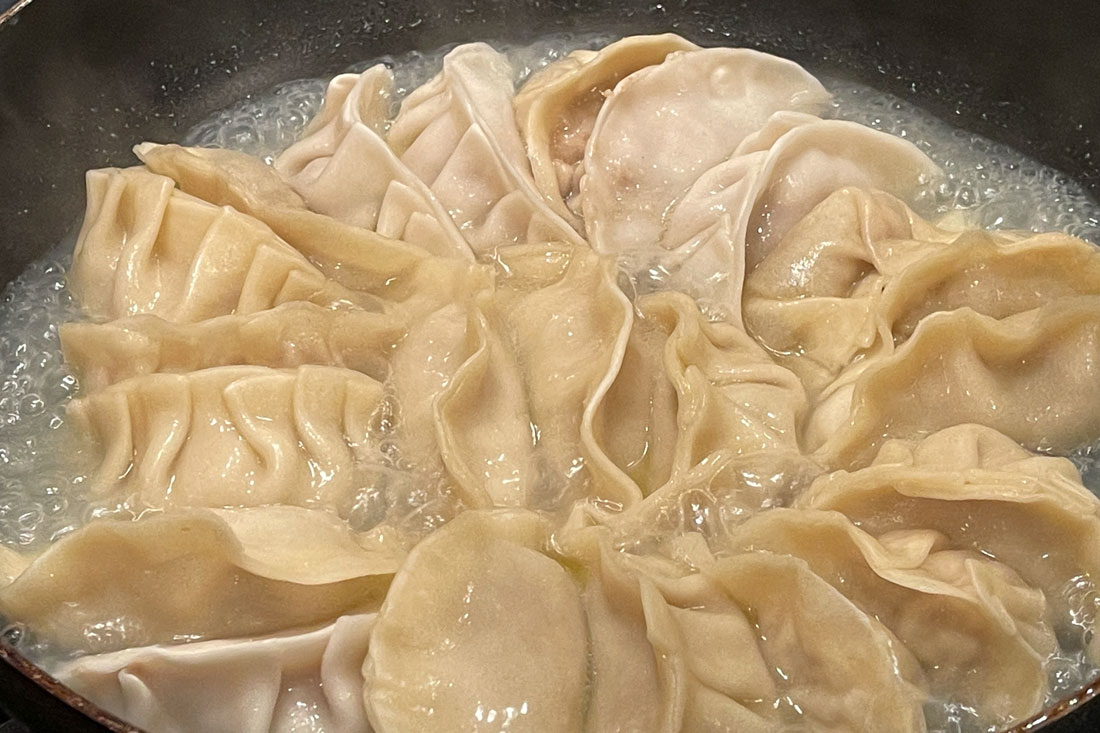 When the pot stickers are done, they should not move around and not stick to the bottom when you shake the frying pan.
Slide them or turn them upside down onto a platter and serve with Zhenjiang vinegar (available at Asian supermarkets) and soy sauce as dipping sauces.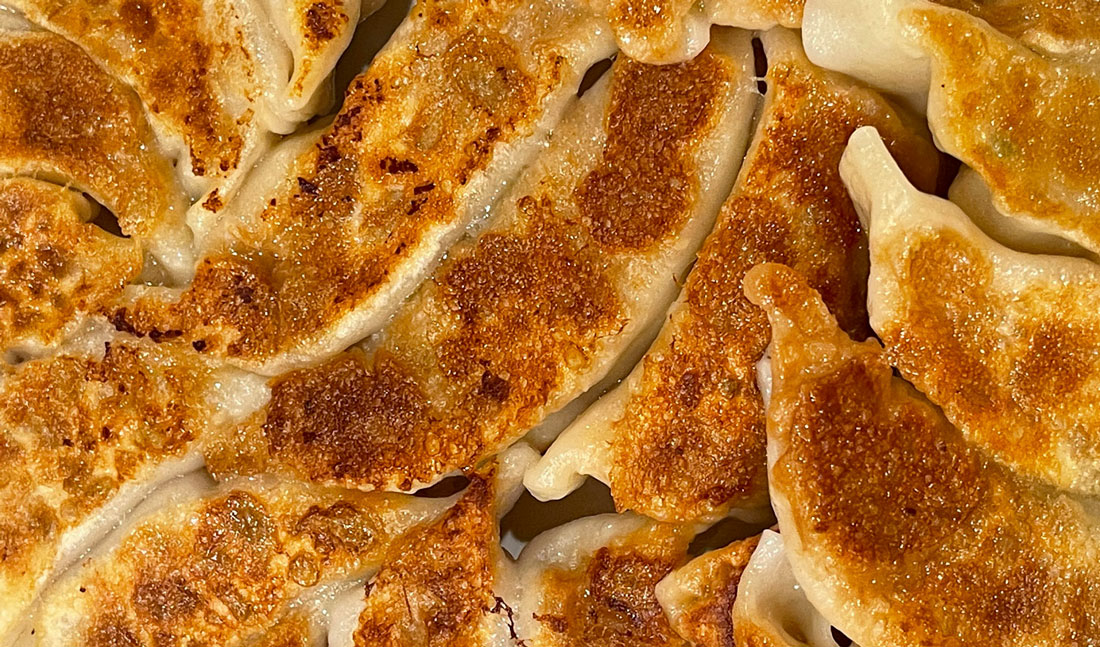 Check out these related items