Hand Typing
Posted by Donna Rouviere Anderson |
May 29, 2019
Photos by Forrest Anderson
Once upon a time in a pre-personal computer world, architects hand lettered all of the labels on their blueprints so that their colleagues could understand their designs. When my husband Forrest Anderson took a drafting class in middle school, his teacher insisted on the students learning this traditional skill. In that random way in which some things stick and others don't as kids go through school, this one did. To this day, Forrest continues to write in exquisitely neat, tidy printing.
"It looks like typing," people exclaim upon seeing something he has written.
Architectural hand writing was a uniform style of writing that was used by architects because multiple people who were collaborating on a project would write notes on blueprints. Because they used a highly legible style of writing that they were all used to, they were able to communicate through the blueprints that they contributed to. The style is even, precise and beautiful. Architectural illustrator Frank Ching's use of the style in his books on drawing and graphics became so popular that in 1989, Adobe made the Tekton font based on Ching's handwriting.
Many university architectural programs no longer teach architectural handwriting, but some students are familiar with it because older professors use it. Some people, such as Forrest, continue to use their own stylized versions of it because it's highly legible.
"I never got comfortable with cursive," he says. "And I like the way it looks."
Forrest "hand types" in notebooks that he chooses carefully for their paper quality, using fine-point fountain pens in different colors of ink.
"The mechanics of the writing instrument, ink, the right paper and the subject come together in what in the end is an art form," he says.
He tracks information, does finances, does calendaring, makes plans, writes a journal and makes complex app prototypes, all in small, tidy lettering.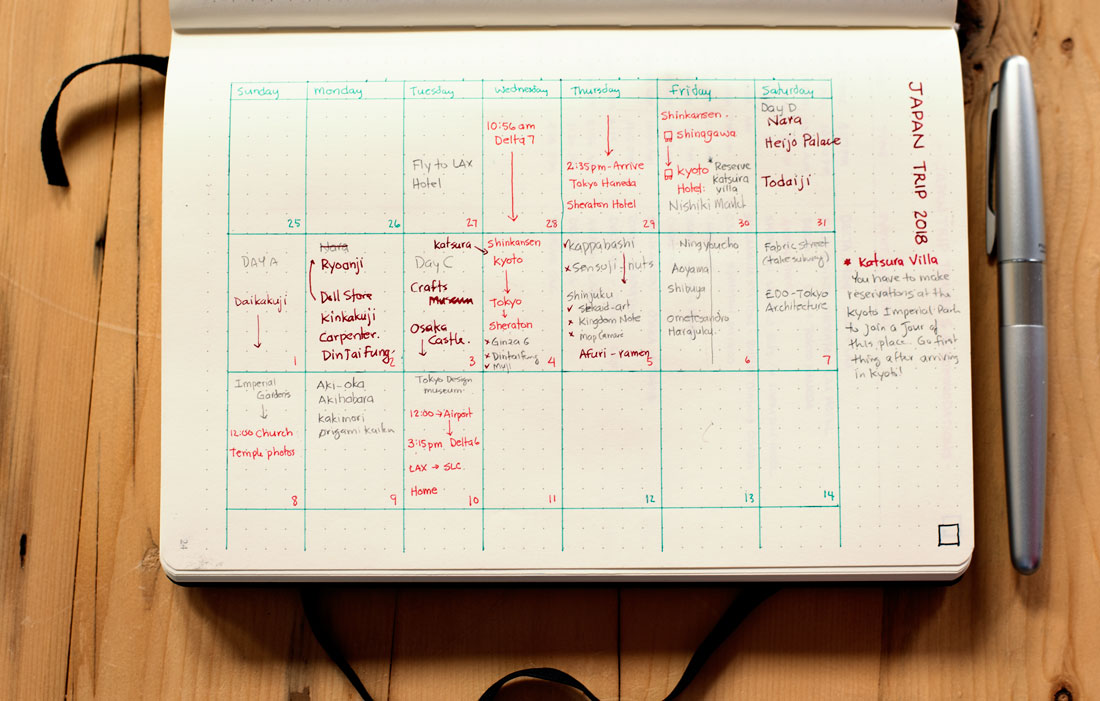 A calendar for a trip to Japan. Forrest wrote the items that were set in ink and those that were subject to change in pencil so he could modify them.
A Valuable Tool for App Development
Before beginning to write code for an iOS app or website, Forrest takes designs created by an app designer and makes meticulous drawings, carefully labeled, showing the connections between app views, their underlying functions, the way a user moves through an app, the flow of information flow in it, how the code will work, and the overall architecture of an app he is building.
After creating these drawings, he makes lists on the drawings of functions he needs to create and questions he needs to research to build parts of an app or to connect the parts together and make sure that the right information shows up in the right place. These lists become the starting points for moving forward to build a project.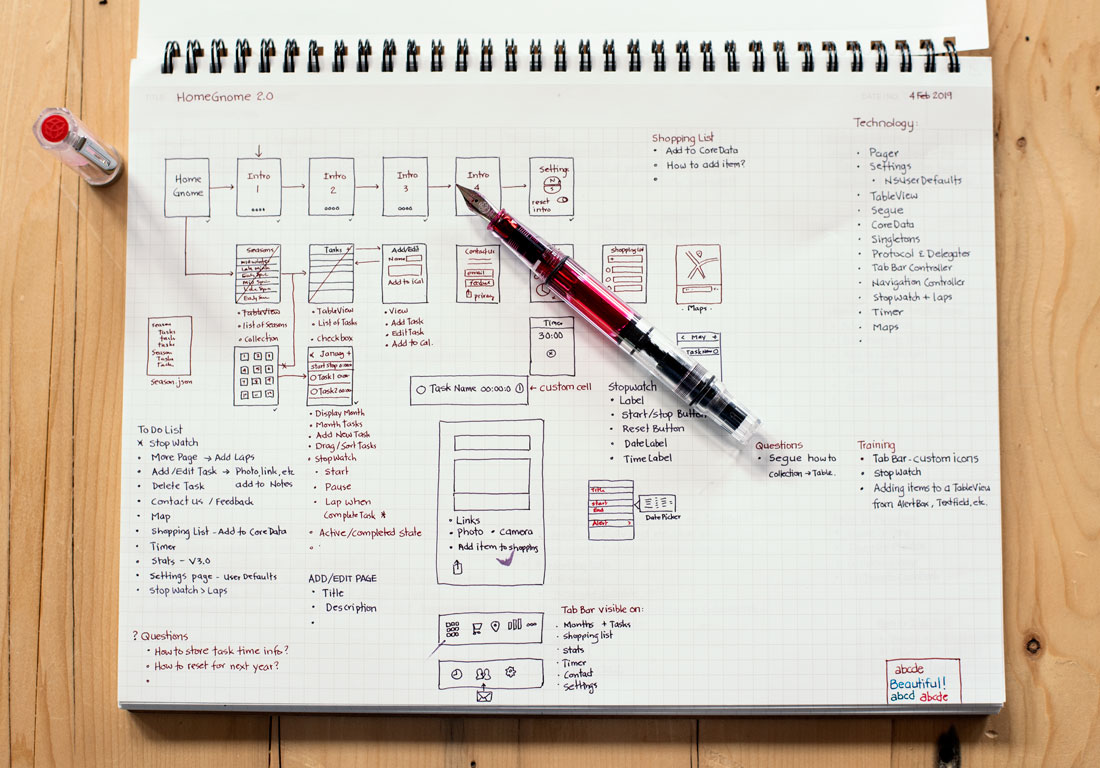 An initial app prototype with a list of questions that Forrest needed to look into and functions he needed to build.
"It helps me to sort through my thoughts, figure out how to do things. It helps me to work through ideas, find solutions and map out what I need to do," he says.
"Sometimes," he says, "a simple bullet list of tasks is all you need to do. You can sort priorities and figure out what you're in the mood to do or need to do. By the end of the day, you're done with it. "
The drawings act as prototypes for apps and websites. "I can write stuff out in my notebooks forever and the cost is very low."
Capturing Ideas and Questions
"In the course of doing things, as ideas come to you, you can make notes on them and follow up later. Certain color combinations work well together in the process of setting priorities. You've got visibility to information."
A Bridge Between Ideas and App Structure and Code
The feel and function of the ink, pen and paper are crucial to his thought process, Forrest says. "I'm working in a medium that helps me think things out. " The drawings and writing are a bridge from the simple medium of ink and paper to the complex world of app structure and code.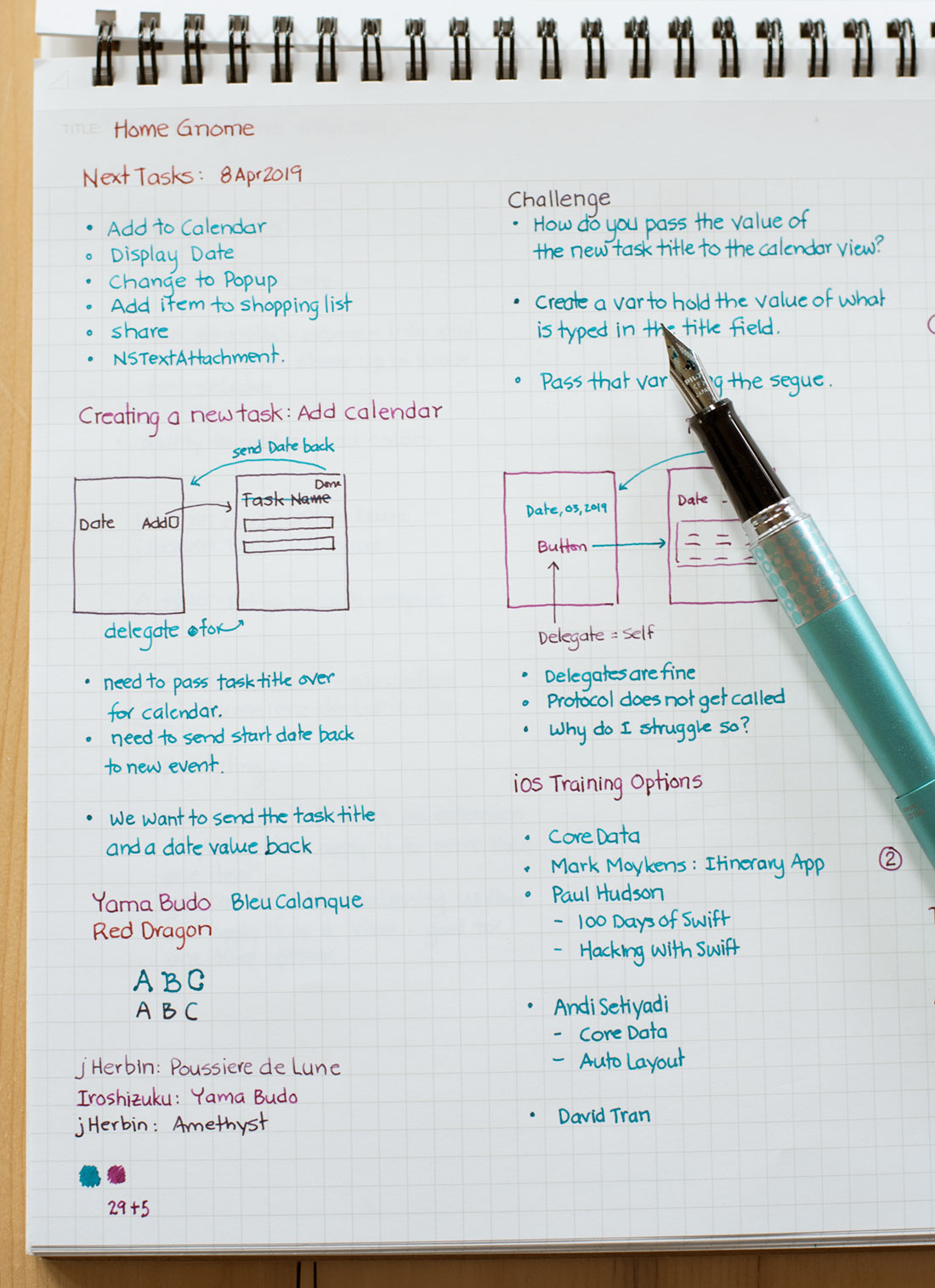 A detailed drawing that helped Forrest think and plan how to do a calendar function in an app.
A Holistic View of Projects and Life
Each notebook page becomes "a piece of art. It's an infographic of the day," he says. "I find that unless I write things down like that, my day doesn't have as much structure to it."
Forrest's notebooks are similar in some ways to the Bullet Journal system popularized by designer Ryder Carrol, which helps people track the past, organize the present and plan for the future.
In addition to creating prototypes for app projects, Forrest does the same for personal projects - planning a trip, doing a home improvement project and thinking through his views on a wide variety of topics.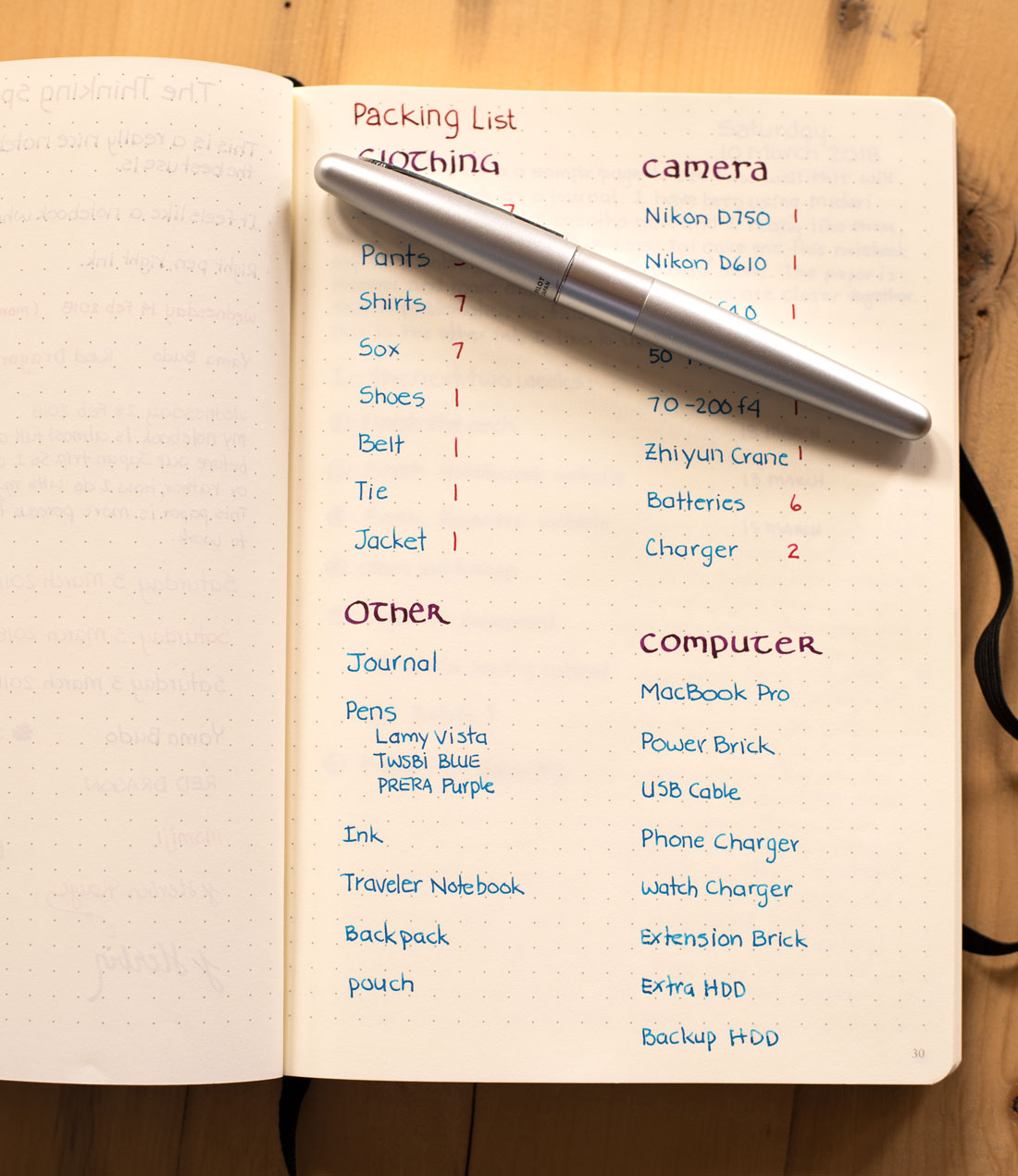 A packing list for a working trip.
Watching this age-old technique act as an efficient bridge into the cutting-edge world of app architecture and development has made me wonder whether architectural lettering and drawings have been pushed aside too readily as essential skills for developers in the digital world.
"It's easy to think that technology has all of the answers," Forrest says, "but sometimes the answers are found in the analog world, and ultimately, you can't separate the two. An app needs to work well in the real world to be successful. We forget that writing and drawing on paper and ink are simply a representation of thoughts and ideas just like pixels and programming code are. They are different forms of the same thing."
Check out these related items