Paris's Oldest Food Market
Posted by Donna Rouviere Anderson |
January 21, 2020
Photos by Forrest Anderson
One of the great charms of Paris is that many of its neighborhoods began as villages with medieval churches adjacent to food markets and they have retained that character into the 21st century. Towering cathedral-like churches anchor cobblestone streets lined with picturesque bakeries, sidewalk cafes, cheese shops, butcher shops, flower shops and produce stands. It is possible to discern their history even among modern traffic and bustling crowds of pedestrians.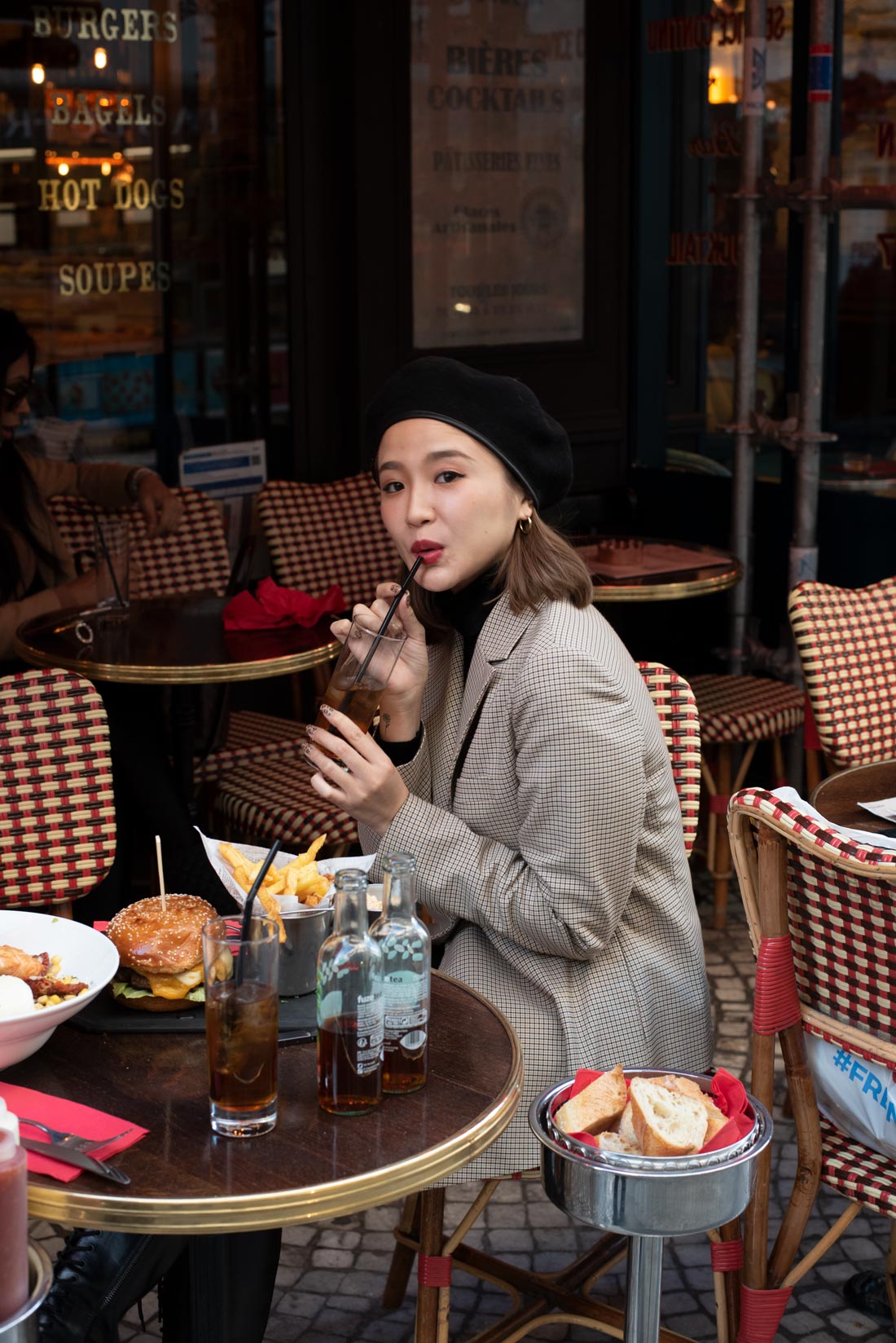 None of these market-church centers is more famous than Rue Montorgueil, which has been Paris's main food street for at least five centuries. The street was once France's largest food market. On the southern tip of Rue Montorgueil is the Gothic masterpiece that is Saint-Eustache Cathedral and on the north is the Grand Boulevards. In between are famous food establishments, both ones with long histories and sleek, modern newcomers, all distinguished by their superb products and service as well as their reasonable prices. Here are some of my favorites:
La Madison Stohrer at 51 Rue Montorgrueil. This small pastry shop opened in 1730, making it one of the oldest bakeries in Paris. The shop was founded by King Louis XV's pastry chef, Nicolas Stohrer, who had been the pastry chef of Stanislaw Leszczynski, the Duke of Lorraine and the former king of Poland. Leszczynski was the father of Marie Leszyzynska, who married Louis XV, and Stohrer came to Paris with her.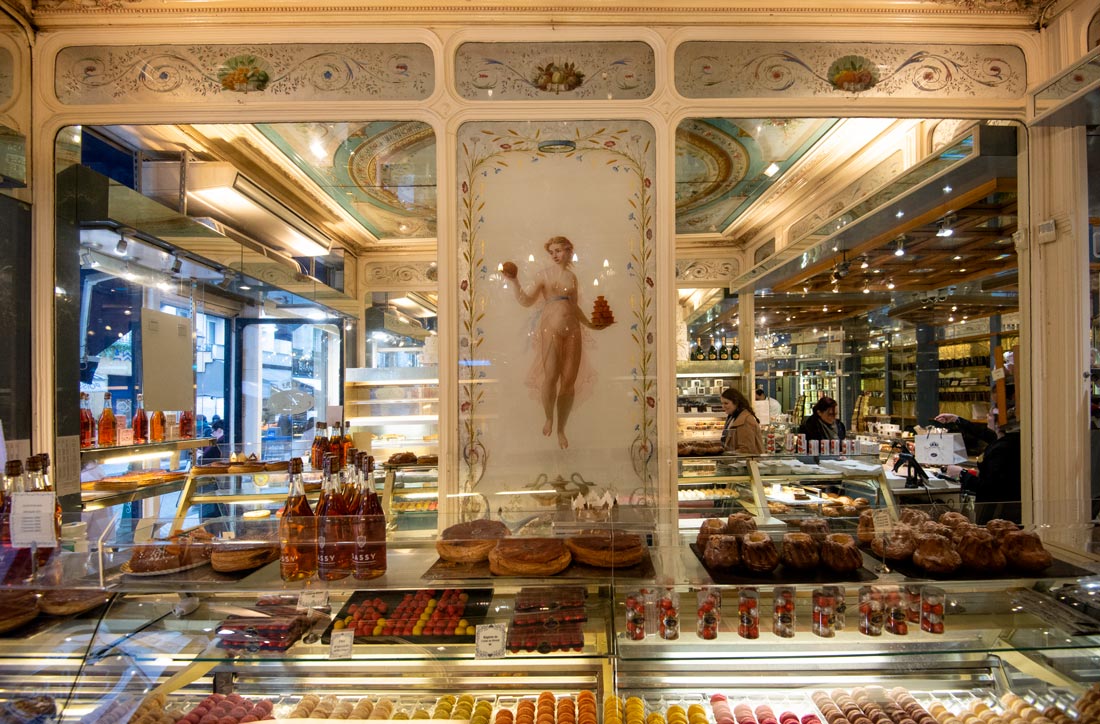 Nicolas was a genius chef who invented a number of French pastries and created legendary recipes for others that are still used at the shop. He invented the famous religieuse, Chiboust cream tarts, and puits d'amour. Stohrer's pastries are rich, with sophisticated, nuanced flavors, and are decorated perfectly. Chocolate, caramel and pistachio eclairs, raspberry tarts, apple turnovers, financiers and a host of other pastries are sold at the shop. My favorite is a creamy citrus tart. Nicolas invented chou pastries, the light puff pastries for which France is famous, and pioneered a bakery that brought together what before him were separate trades – pastry making, confectionery, and cake, wafer and spice bread making. The bakery has been run since 2017 by the Dolfi family, who also own one of Paris' most famous chocolate shops, À La Mère de Famille. That shop was founded in 1761 and today is still among Paris's most famous chocolatiers. Étienne Dolfi, the store's confectioner and supplier, took over the business with his children in 2000 and has started a number of À La Mère de Famille shops in Paris.
Eating the perfect pastries from Maison Stoher is an event, well worth waiting in the small bakery's usual line. Also worth waiting in line for is the shop's elegant historic French interior, with its colorful walls and ceiling and chandeliers.
Eric Kayser's bakery at 16 Rue des Carreaux in the neighborhood, on the other hand, is a thoroughly modern bakery, but with its own traditional French history.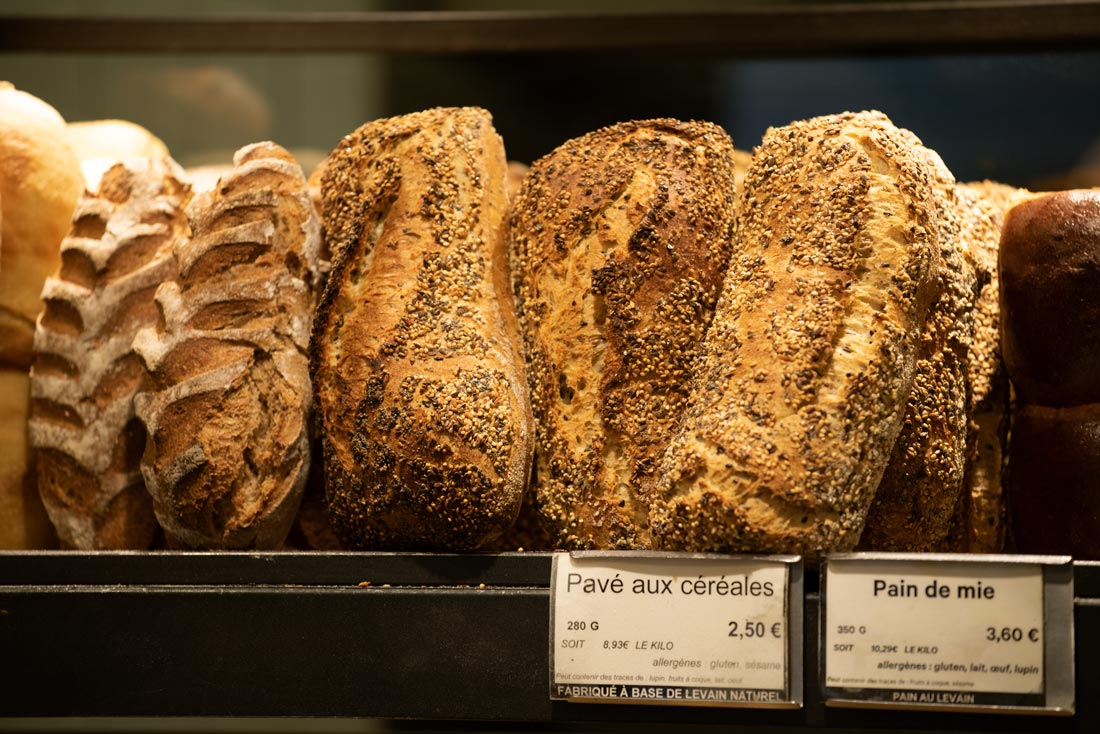 Kayser's great-grandfather, grandfather, and father were traditional French bakers in Lorraine, France. He developed a passion for baking when young and served an apprenticeship in a historic town in the Rhone-Apls. When he was 19, he became a compagnon, which meant that he participated in a French organization of craftsmen and artisans dating from the Middle Ages in which he did apprenticeships with master bakers in various locations in France. In 1994, together with fellow compagnon Patrick Castagna, Kayser started a bakery that became instantly successful. Today there are more than 200 Maison Kayser locations worldwide, which have adapted their products to local tastes and flavors. Eric Kayser's bakery in the Montorgueil area is my idea of the ideal place to shop for daily bread – baguettes and large loaves with crisp crisp chewy crusts.
Also in the Montogueil area is Bo & Mie, a popular high quality bakery run by Jean-Francois Bandet, who was trained at the famous Ferrandi patisserie school and who took over the bakery in 2014.
If you'd like some cheese on your bread, stop at La Fermette, the most famous cheese shop in the Montorgueil area. This family-owned shop stands out even in a city of great cheese shops for its huge selection of cheeses.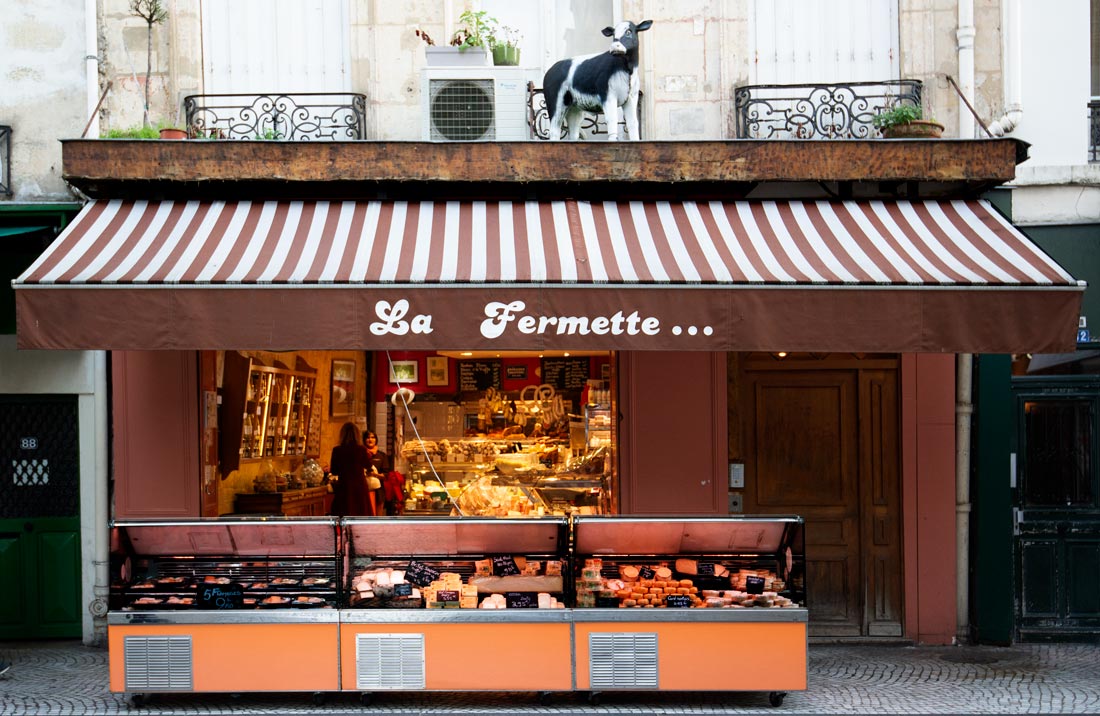 Not far away is Boucher Montorgueil, where you can purchase rotisserie chicken among many other meat options. You also can stop at a fish shop and fresh produce shops to buy foods to round out a meal.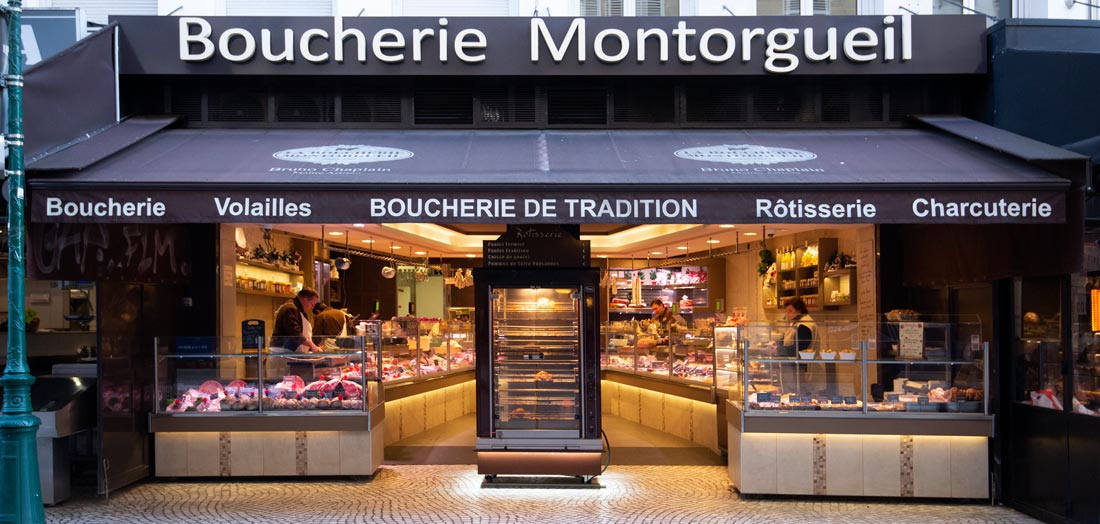 Reasonably priced cafes and restaurants famous for their high-quality food abound on Rue Montorgueil - L'Escargot, with a giant golden snail over its entrance, Etienne Marcel and a number of others.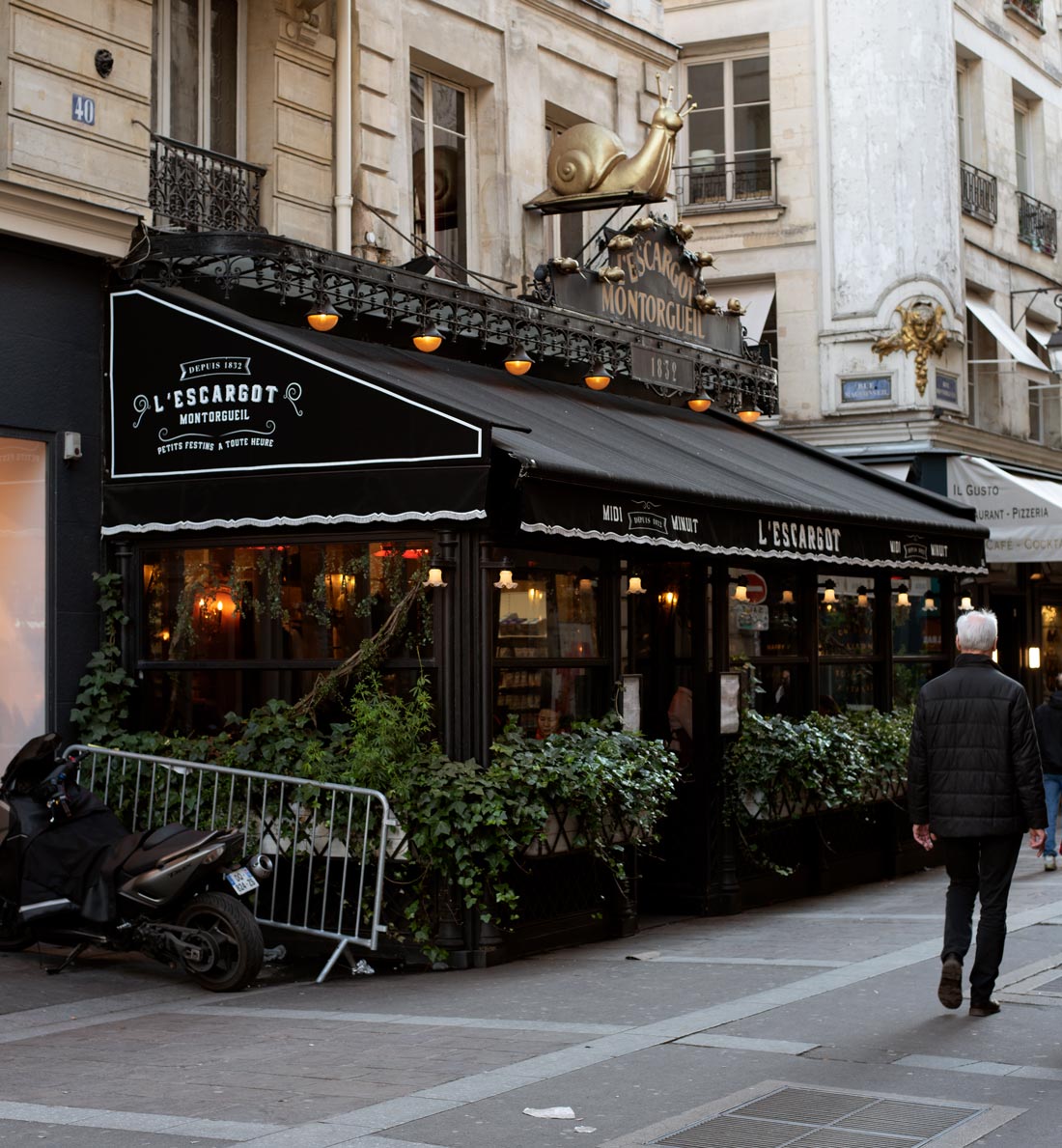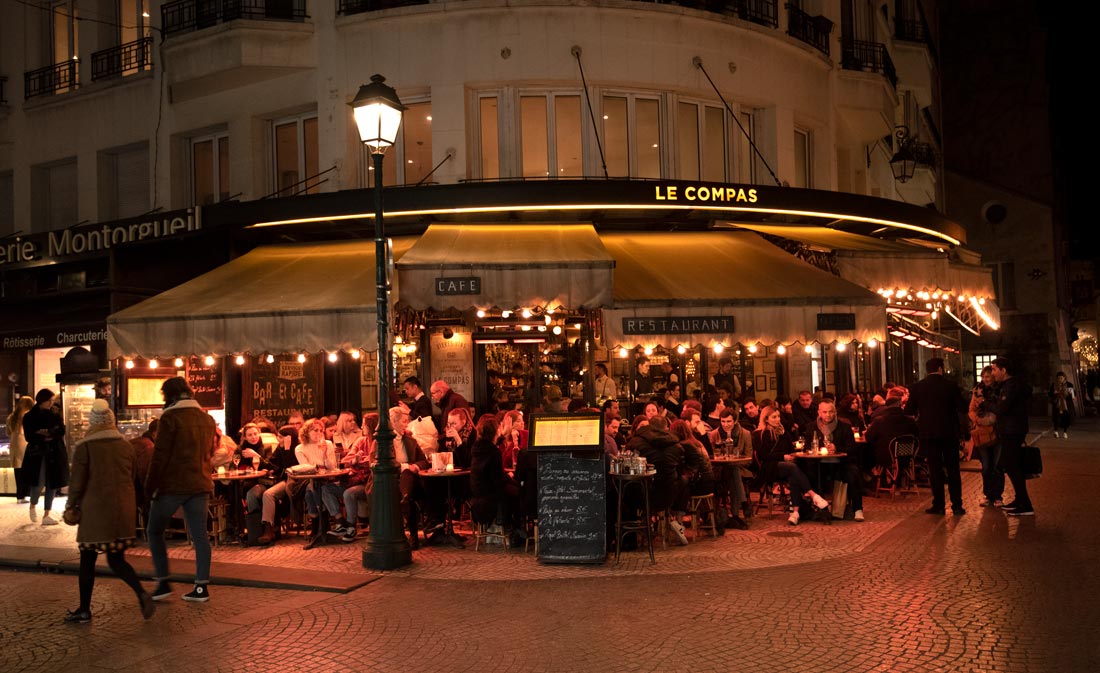 Fresh flower and plant shops as well as a variety of daily goods shops, specialty shops and a Monoprix grocery store also are on the street. One of my favorite shops specializes in pans, knives and other baking equipment and supplies used by pastry and confectionary chefs in Paris. Other shops offer fabrics and yarns made in various parts of France. The shop below sells a variety of decorated tin containers.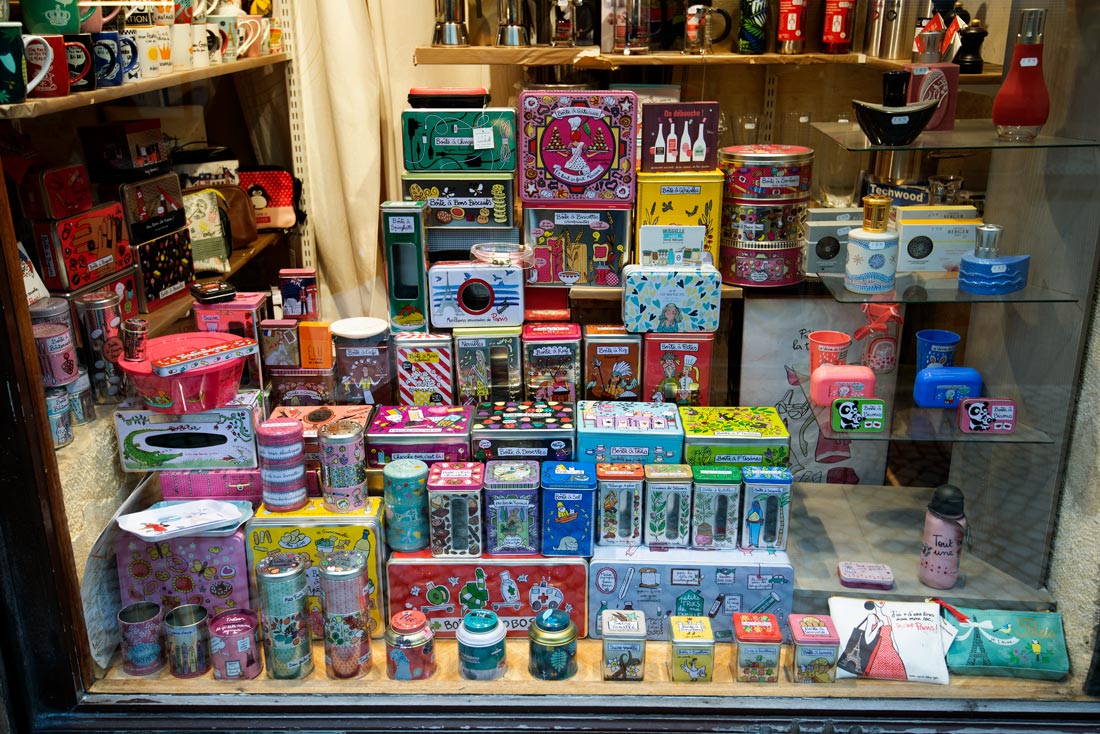 Some shops are tucked down side streets, the most famous of which is the Passage du Grand Cerf.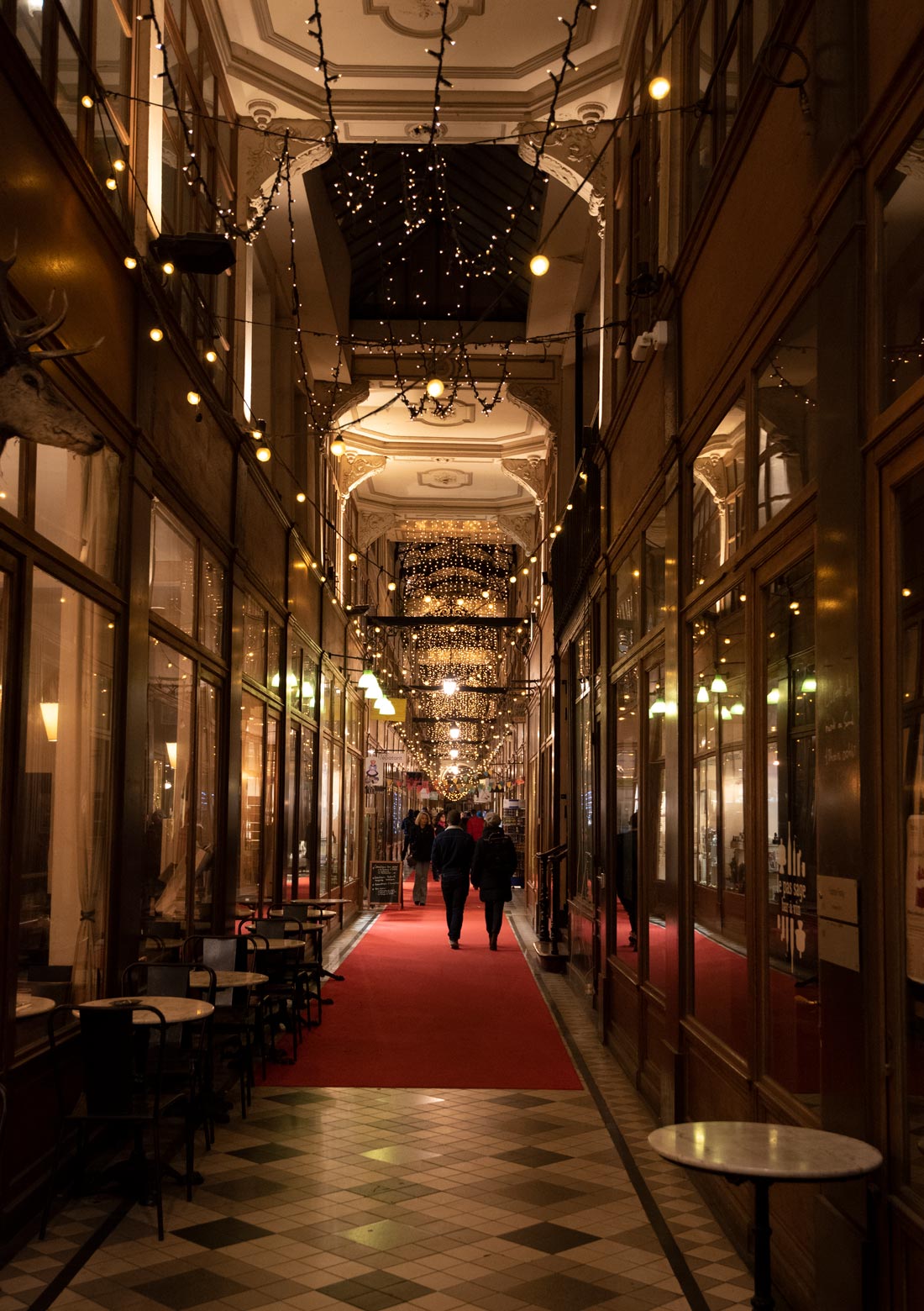 The passage is a covered walkway with a 12-meter-high ceiling that dates fo 1825. Once upon a time, there were 150 such passagways in Paris, but just a few remain today. The passage is named for a wooden cerf or stag's head hanging in the alley. Other animals adorn the shop fronts. The passage, which has unusual boutiques along it, has been featured in a number of films.
Anchoring Rue Montorguiel is Saint-Eustache, a masterpiece of late Gothic architecture, where King Louis XIV received communion as a young adolescent. The first church at the site was built by a merchant in the area who collected a tax on the sale of fish baskets as repayment of a loan to King Philippe-Augusta. The current church was built on the site between 1532 and 1632. French King Louis XIV received communion there as a boy and his education there is depicted in a stained glass window.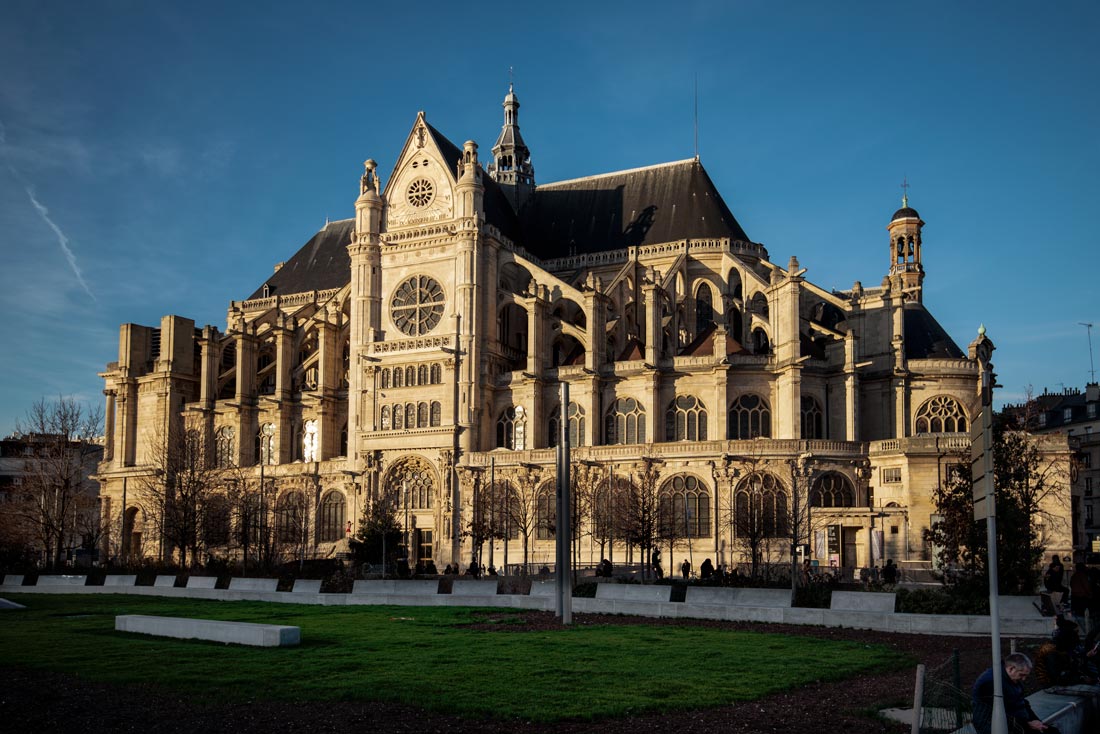 The church got its name from a Roman general who converted to Christianity and was burned for it along with his family. The Abbey of St. Denis in Paris donated relics associated with the general to the church, which thereafter took on the general's name.
The church has a long storied history. It briefly was used as a barn when churches were desecrated during the French Revolution and was set on fire during the Paris Commune of 1871. It is missing one of its original two towers.
The Church has a Chapel of the Butchers which honors butchers from the nearby Les Halles food market who were significant patrons of the church. A stained glass window in the church honors the butchers. Below, the ornate gargoyles on the church drain water off of it.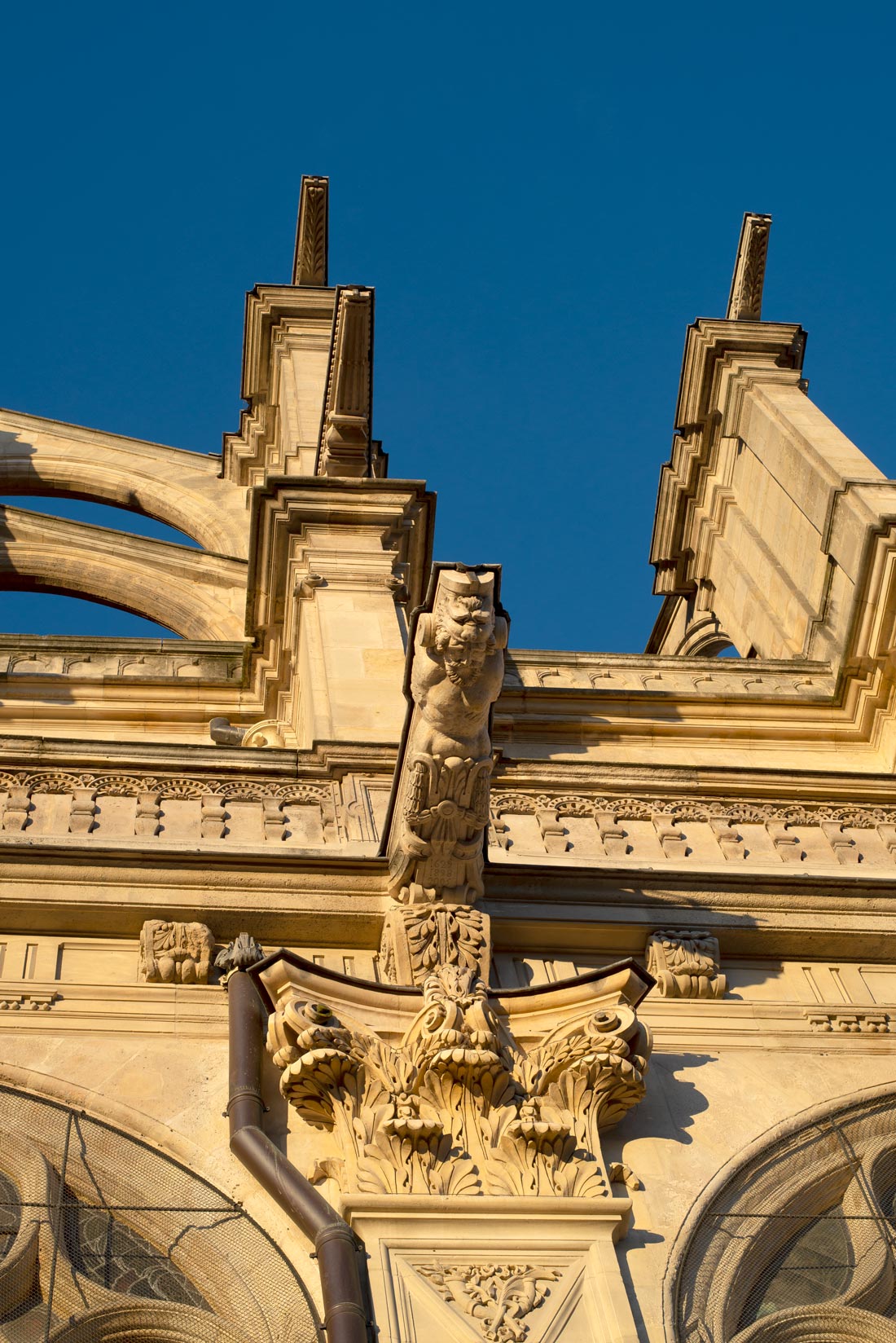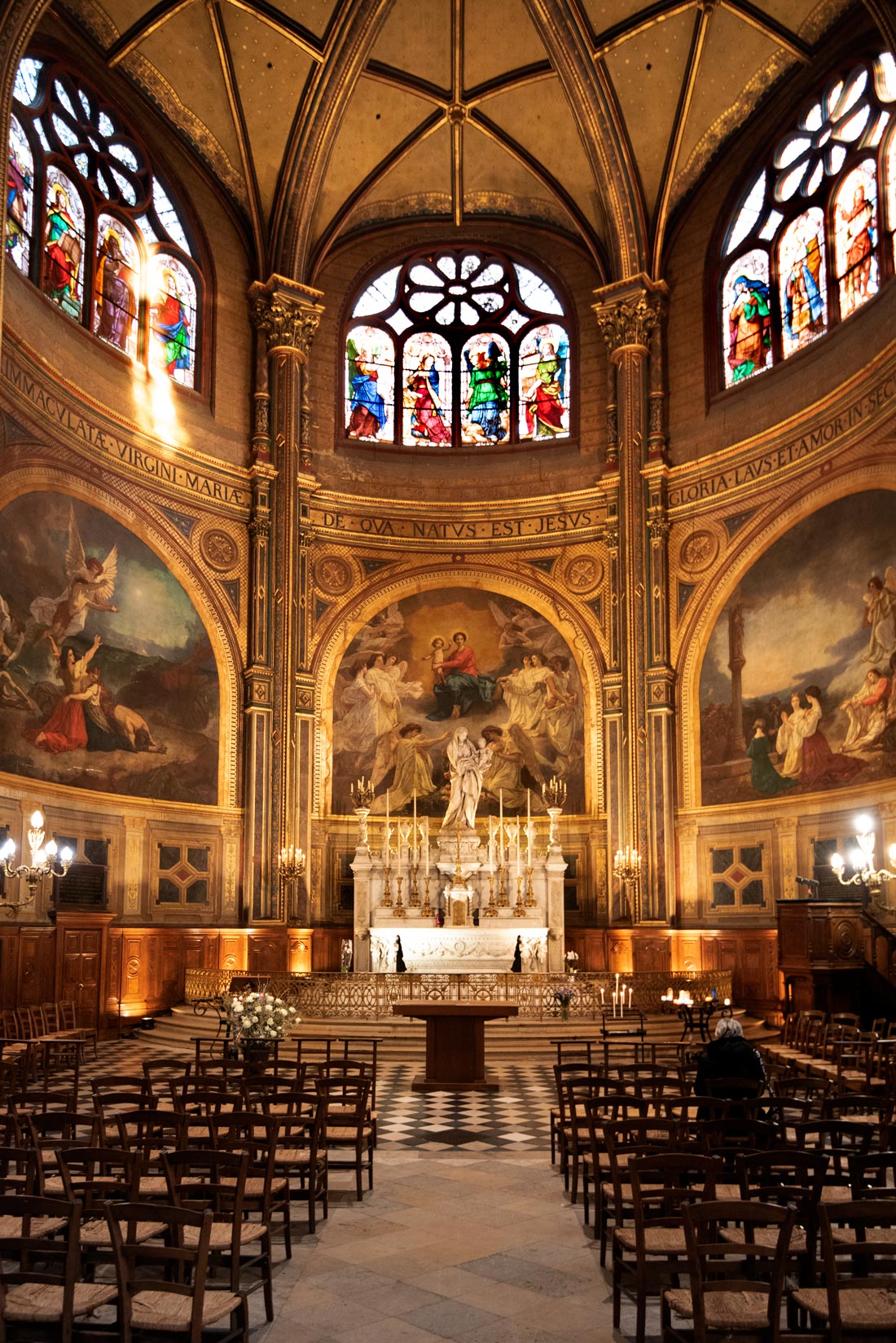 Near the church is the modernistic Les Halles shopping center, which was built in the 1970s on the site of the Forum Les Halles, a long-standing food market that was part of the Rue Montorgueil market area. The shopping mall, which gets 150,000 visitors a day, was controversial when it replaced the Les Halles market that had been on the site since 1183. The market originally had two halls for textile trading, but food stalls grew up around them until by the 15th century, Les Halles was a significant city food market. In the 1700s, a circular market was built in the area. It later was covered wth a dome and then a glass and iron structure which became one of the most famous sites of Paris.
In the 1970s, two glass and iron market pavilions of Les Halles were dismantled and recreated elsewhere, with one being sent to Yokohama, Japan, where it was rebuilt.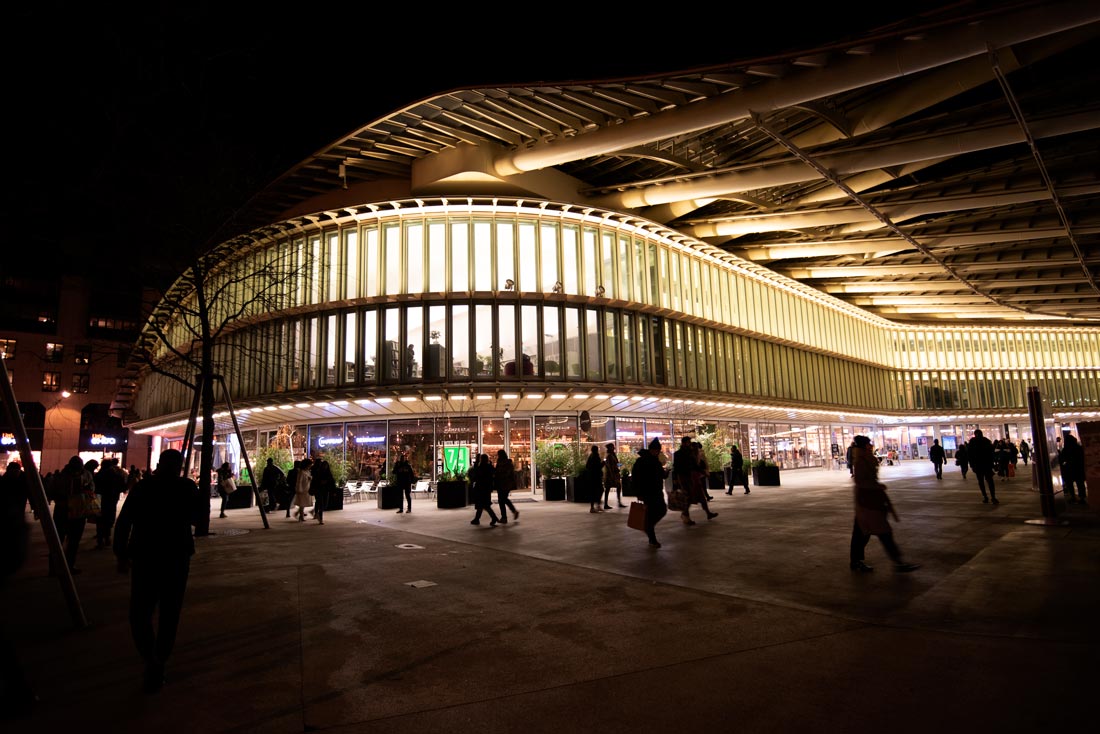 The shopping mall currently on the site became the point of convergence for underground train lines and Les Halles is now Paris' busiest rail station. It serves 750,000 travelers on an average mid-week day.
Rue Montorgueil, like many other famous areas of Paris, has been permeated with American brands. Below, the street's entrance arch is next to the golden arches of McDonalds and a Starbucks. Both American chains, however, bow to local tradition by serving French pastries and other French products. Many local restaurants along the street include a hot dog or a cheesburger on their otherwise French menus.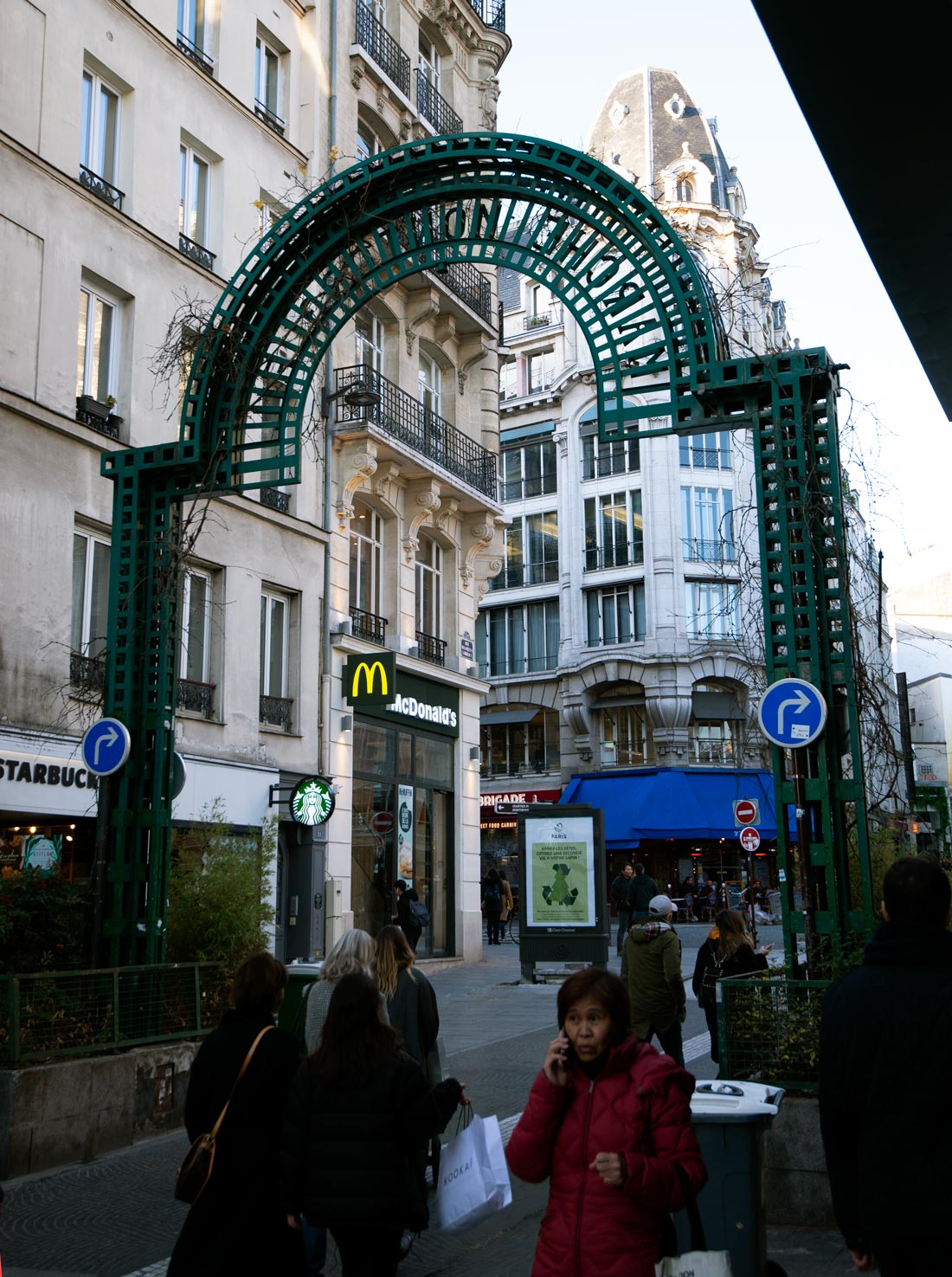 Check out these related items